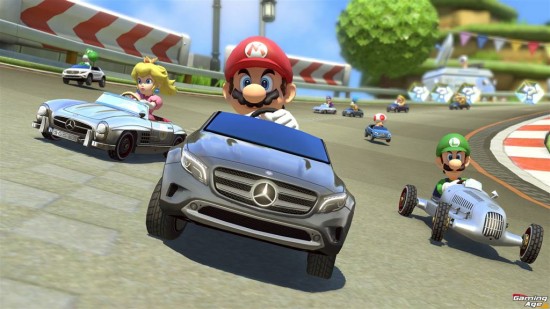 You want real-life vehicles in your Mario Kart? Yes? No? Well either way, you're getting 'em.
Nintendo has announced that they are gearing up to release a new Mario Kart 8 title update on August 27th which will bring a number of fixes, features and new content to the Wii U title. These new changes include an onscreen map, improved online play, a stats display and more.
The biggest reveal was that Nintendo has teamed up with Mercedes to offer a trio of Mercedes-Benz cars from different generations. The update and content just coincidentally is set to arrive on the 22nd anniversary of the Japanese launch of the original Mario Kart for the SNES… Feel old yet?
The companies are also teaming up to host a Mercedes Cup online tourney for all players to take part in from August 27th through September 23rd.
Check out some shots of the vehicles and read on for more details on the Mario Kart 8 update.
Read on for the announcement from Nintendo UK below.
For the first time ever, Nintendo's Mario Kart series will be powered by some real-world horsepower. A software update on 27th August to Mario Kart 8 for Wii U will deliver a variety of new features for players, most notably the ability to download three free Mercedes-Benz cars that players can race in the game: the modern Mercedes-Benz GLA, the 300 SL Roadster from the 1950s and the legendary Silver Arrow of the 1930s.

The GLA model comes with special wheel options, while players can customise all three new karts with various wheels and gliders in the game. The new content arrives on the 22nd anniversary of the Japanese launch of the original Mario Kart game, Super Mario Kart, which launched on 27th August, 1992, for Super Nintendo.

Between 27th August and 23rd September, Nintendo and Mercedes-Benz will also host an online worldwide "Mercedes Cup" tournament. All competitors need is a Wii U console, Mario Kart 8, a broadband Internet connection and the Mercedes-Benz karts. Access to the "Mercedes Cup" in the game can be found in the online tournament section.

The Mario Kart 8 software update will also add a variety of new features designed to enhance the racing experience for everyone. These include:

Drivers will now have the option to display the course map on the TV screen during races.
Users will be able to check out statistics such as their total number of coins accumulated, win-loss record from online play, and their most frequently selected character overall.
Users will be able to change options of others' Mario Kart TV downloaded highlight reels, such as changing the focus to a new character or event.
The order of the menu after each race will be changed to " Next Race", followed by "Watch Highlight Reel".
The game will remember the most recent customised kart settings that were selected, even if the Wii U system is powered down.
Improvements to stability of connection in online play to enhance the user experience.
---
Feel the rush as your kart rockets across the ceiling. Race upside-down and along walls on anti-gravity tracks in the most action-fueled Mario Kart game yet. Take on racers across the globe and share videos of your greatest moments via Mario Kart TV.
Driving up a waterfall or across the ceiling can provide an intense adrenaline rush, but that's not all anti-gravity is good for. It also provides a wild new gameplay mechanic: if you collide into other racers in zero-g, you'll earn speed boosts worth bragging about. Upload and share your best moments and watch your friends' using Mario Kart TV. Returning features include 12-player online play, gliders, underwater racing, motorbikes, and custom karts. You can even race as Bowser's seven minions, the Koopalings.
Race along walls and upside-down on twisting anti-gravity racetracks
Share highlight videos of your greatest moments with friends via the Mario Kart TV feature and Miiverse
Race and battle with friends locally or connect online to play with random players from around the world
Fan favorite features from past Mario Kart games include gliders, underwater racing, motorbikes, mid-air tricks, and more
For the first time ever, play as all seven of Bowser's minions, the Koopalings
Crisp HD graphics and fluid animation offers players a visually stunning Mario Kart