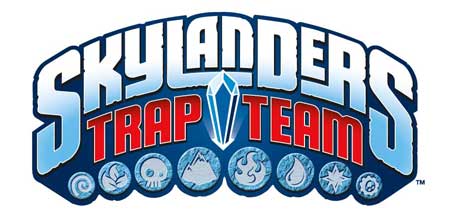 Activision is on location at the San Diego Comic-Con and they just dropped off a large new batch of screens and product shots of the upcoming 4th Skylanders title.
Broccoli Guy, Sheep Creep, Wolfgang and more make an appearance, along with some of the Dark Edition goodies.
Skylanders Trap Team screenshots:
Skylanders Trap Team – Toys and Traps photos:
Read on for more official details.
Launching in October, Skylanders Trap Team brings a ground-breaking innovation to the Skylanders franchise by reversing the magic of its signature Toys-To-Life play pattern to let kids bring life-to-toys for the first time. With Skylanders Trap Team, Portal Masters seek out and defeat the most wanted villains in all of Skylands, pulling them out of the game and into living rooms by capturing them in magical Traps. Players can then send villains back into the game where they play as them to fight for good. The game will include the Traptanium Portal, a new ring of magical energy that enables kids to not only bring their Skylanders to life, but also magically capture villains using the new Traps. Once they've defeated the villains, kids will be able to place a Trap into the new portal to capture them. They will also be able to hear the villains inside the Traps, an innovation that truly brings life to toys.  Skylanders Trap Team will be available on Xbox 360 and  Xbox One video game and entertainment systems from Microsoft, PlayStation 3 and PlayStation 4 computer entertainment systems, Nintendo's Wii system, Nintendo's Wii U system, and a completely unique adventure available on the Nintendo 3DS hand-held system.
---
Capture Evil. Unleash Good.
Kaos has blown up the walls of the feared Cloudcracker Prison freeing the most notorious villains in Skylands. it's up to you and the Skylanders to find and capture them. using Traptanium, a magic material that can harness the power of the Elements, you have the amazing ability to trap the villains and return them to Skylands to fight for you! Begin the ultimate adventure as you explore Skylands in search of the escaped villains!
Starter Pack includes: 1-Video Game, 1-Traptanium Portal, 2-Skylanders Figures, 2-Traps, 1-Character Collector Poster, 2-Sticker Sheets with Secret Codes and 2-Trading Cards.
Build the ultimate Trap Team - Over 60 Skylanders to collect and 40+ villains to capture. Sticker Sheets with Secret Codes – Enjoy stickers of your favorite Skylanders. Place the names and codes on the Character Collect Poster to track your collection. The secret codes can be used in the Skylanders Lost Islands and Skylanders Collection Vault Apps. Trading Cards – Learn more about each Skylander's powers and abilities.
Traptanium Portal
Place the Skylanders on the NEW Traptanium Portal and bring the Skylanders to life
Traps
Defeat and capture villains in the Traps and then use the villains on the side of good
All New Skylanders
The Skylanders each have their own unique abilities and powers
Trap Master Skylanders
Trap Master Skylanders are the ultimate trappers with powerful Traptanium weapons