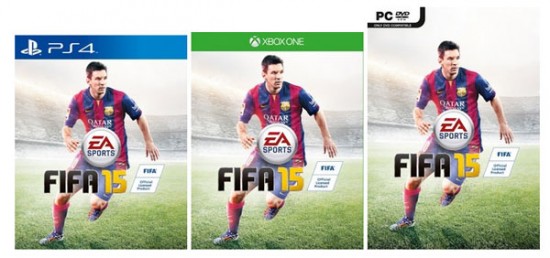 And the FIFA 15 cover athlete honors go to… Leo Messi!
Sure, he just barely missed out taking home the FIFA World Cup Trophy with Argentina, but at least he gets to grace the global cover of EA Sports latest FIFA videogame. Almost the same thing… right?
Read on for the announcement.
EA SPORTS today announced that Leo Messi is set to appear on the global cover of EA SPORTS FIFA 15 – due out late September 2014.  Falling just short after a stunning performance that saw him receive top individual honors at the 2014 FIFA World Cup, the 27 year-old won four Man of the Match Awards and scored the same number of times in the tournament. Messi had 28 goals for FC Barcelona this past season. EA SPORTS is honored to have Messi lead a roster of international superstars set to appear on the cover of FIFA 15.

This season will mark the fourth consecutive time that Messi stars on the cover of a FIFA title previously appearing on FIFA Street, FIFA 13, and FIFA 14. In that time, Messi has been on top of the football world at FC Barcelona, setting the record for most goals in a year (91) and marking a milestone as the only player to receive the FIFA Ballon d'Or four times. Leo Messi was originally announced as an EA SPORTS Football Ambassador in November 2011, a partnership that has not only put him on the cover of multiple FIFA titles but also brought a new street football pitch to Barcelona thanks to the Messi foundation and EA SPORTS.

Messi stats:
International debut: 2005
International games: 93
International goals: 42
World Cup goals: 5
La Liga Titles: 6
FC Barcelona Goals: 243
European League Titles: 3
European League Goals: 68
FIFA Ballon d'Or: 4
---
• FIFA 15 brings soccer to life in stunning detail so fans can experience the emotion of the sport like never before.
• Witness the intensity of crowds and listen to commentators guide fans through the story of the game with Dynamic Match Presentation. New Emotional Intelligence allows players to react to opponents and teammates within context, and relative to the narrative of the match.
• Next Generation Visuals put fans on Living Pitches with grass that wears as the match progresses. Authentic Player Visuals give players true to life appearance. Player Control heightens the responsiveness of player movement and makes Man-to-Man Battles more rewarding than ever before.
• Pre-order FIFA 15 and receive up to 40 gold packs over 40 weeks to build your dream club in FIFA 15 Ultimate Team.

KEY FEATURES
• Emotional Intelligence - For the first time ever, FIFA 15 models the emotions of all 22 players on the pitch, giving fans a chance to experience first-hand the attitudes and personalities of the world's best soccer players during a match.
• Dynamic Match Presentation - Match Day will feel more dynamic and alive than ever before – immersing you in the match action and never taking you out of the moment. With region specific behaviors, crowds will now be distinguished by cheers and chants designated to their club, league, country, or continent.
• Correct Contacts -   Physically Correct Contacts revolutionizes the way the soccer interacts with the players and their environment. Every dribble, touch, pass, shot, and deflection moves corresponding to the spin of the ball in relation to the position of the body part or object that it connects with – this gives the soccer accurate spin, curl, and movement, as well as varied trajectories.
• Man-to-Man Battles - Dispossessing your opponent in FIFA 15 is more rewarding and physical than ever before. Players use Full-Body Defending to win possession and keep it.