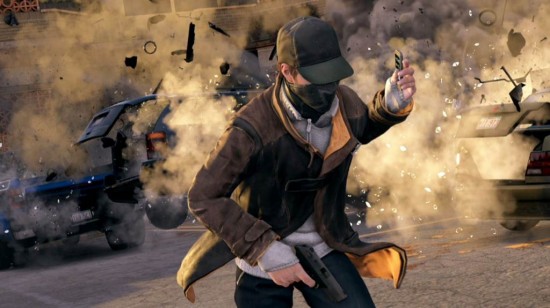 We're still working on our review of Watch_Dogs, but even without it, Ubisoft's open-world hacker adventure seems to be doing alright so far. In fact, the game has apparently set an Ubisoft record for first day sales — although no figures were provided.
Either way, even after the delay, that's great news for the company and the inevitable sequel.
Read on for the announcement.
Today, Ubisoft announced that Watch Dogs sold through more copies in its first 24 hours of availability than any previous title in the company's history*.

Players were understandably eager to get their hands on Watch Dogs, one of the most anticipated and critically-acclaimed titles of 2014. Reviews praised Watch Dogs' hacking gameplay, breadth of content, seamless nature and the depth of the open-world experience. Notable reviews included the following:

"Original and compelling gameplay, intelligent level design and immersion guaranteed." ² – Jeuxvideo.com, 18 out of 20
"It's huge, diverse and intricately detailed." ³ – IGN, 8.4 out of 10
"Watch Dogs was so well received at E3 2012 not for its looks, but what it promised: a truly new way to play open-world games in which the concept of agency extends beyond choosing where to go and what to do next. And whether you're on foot, behind the wheel or in combat, Watch Dogs delivers on that promise." ¹ – Edge, 8 out of 10
 "Impressive." 4– The Escapist, 9 out of 10

Ubisoft's co-founder and CEO Yves Guillemot weighed in on Watch Dogs' early success, saying, "Watch Dogs is an amazing achievement and our teams should be proud that the creativity, innovation and long hours they invested in making this game are paying off. It's great to see so many players enjoying the game, and it shows that Watch Dogs has cracked the code for developing a new blockbuster IP and a thoroughly new-gen experience."

Watch Dogs is set in Chicago and lets players become Aiden Pearce, a brilliant hacker seeking justice following a violent family tragedy. Pearce hacks into Chicago's Central Operating System (ctOS), which controls the city's infrastructure (security cameras, traffic lights, public transportation and more) as well as key data on the city's residents. The game uses the all-new Disrupt game engine to deliver stunning visuals and an incredibly immersive world.

For more information about Watch Dogs, please visit the official website, Facebook page and Twitter account.
---
view larger
WATCH_DOGS
All it takes is the swipe of a finger. We connect with friends. We buy the latest gadgets and gear. We find out what's happening in the world. But with that same simple swipe, we cast an increasingly expansive shadow. With each connection, we leave a digital trail that tracks our every move and milestone, our every like and dislike. And it's not just people. Today, all major cities are networked. Urban infrastructures are monitored and controlled by complex operating systems.
view larger
In Watch_Dogs, this system is called the Central Operating System (ctOS) and it controls almost every piece of the city's technology and holds key information on all of the city's residents.
You play as Aiden Pearce, a brilliant hacker and former thug, whose criminal past led to a violent family tragedy. Now on the hunt for those who hurt your family, you'll be able to monitor and hack all who surround you by manipulating everything connected to the city's network. Access omnipresent security cameras, download personal information to locate a target, control traffic lights and public transportation to stop the enemy, and more.
Use the city of Chicago as your ultimate weapon and exact your own style of revenge.
Hack the City
Control the city's infrastructure, in real time, with Aiden's cell phone. Trap your enemy in a 30-car pileup by manipulating the traffic lights. Stop a train, and then board it to evade the authorities. Narrowly escape capture by quickly raising a drawbridge. Anything connected to the city's ctOS can become your weapon.
Seamless Multiplayer Experience
Discover a new level of interaction, cooperation and confrontation between players thanks to a brand new multiplayer game system that links the single and multiplayer modes into one seamless experience. That means no menus, no loading screens, just instant open world multiplayer action.
Stay Connected with a New Way to Play
Go beyond the console with a ground-breaking, real-time, companion game. This innovative mobile platform allows players to connect and compete with friends, even when away from the home console. The Watch_Dogs companion game delivers revolutionary dual-screen gameplay that enables you to play from anywhere, at any time.
Street Justice
Create your own way to attack. Take down enemies by delivering devastating blows with your baton, or use combination of shooting and hacking to gain advantage in a situation. Overall, you will have access to more than 30 weapons that rival any shooter.
High-Octane Driving
Get behind the wheel of more than 65 vehicles bursting with horsepower to explore the massive city while completing missions. Ubisoft Montreal partnered with Ubisoft Reflections, the acclaimed studio behind the award-winning Driver series to develop each vehicle with state-of-art physics and handling.
Everything is Under Control
Experience the advanced processing and graphics capabilities of Disrupt, the all-new game engine dedicated to Watch_Dogs. The engine delivers stunning visuals and an incredibly realistic experience. Disrupt gives you the power to affect the story, the city and the life of the population with your choices, creating a ripple effect throughout the city.
Dynamic Navigation
Watch_Dogs gives you the ability to not only use the city's ctOS to your advantage, but the streets as well. In real-world Chicago, cut through one of the buildings or climb to the rooftops to catch your target.
view larger
view larger
view larger
view larger