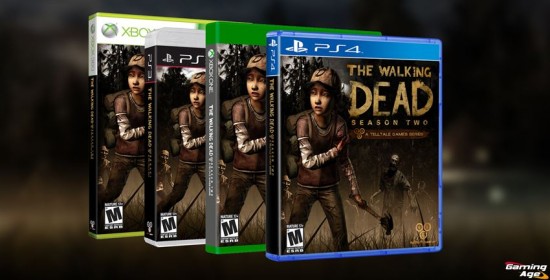 Telltale Game's award winning The Walking Dead series (seasons one and two) is headed to yet another pair of platforms. The now current-gen, PS4 and Xbox One.
The Walking Dead – Season One: Game of the Year Edition plus the extra 400 Days episode will be available via retail (and possibly digitally) along with Season Two, for both platforms.
Release date, pricing and whatnot has not yet been revealed. But check back soon for an update.
Check out the box art for now!
---
The Biggest Zombie Franchise the World Has Seen. Telltale's The Walking Dead is set in the same world as Robert Kirkman's award-winning comic book series. This Game of the Year collection includes all five episodes of Season One of The Walking Dead and includes '400 Days', a special episode that was previously available only as downloadable content. Telltale's The Walking Dead is made up of five episodes that each won numerous high-score accolades and editor's choice awards. Together, as one season, they won over 90 Game of the Year Awards from around the world, plus prestigious BAFTA Awards, proving that a zombie game didn't need to be all about guns, and that gamers would respond fanatically to a deeply emotional story that would leave them craving more.