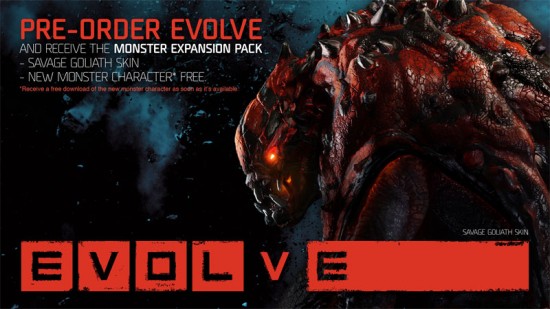 2K and Turtle Rock Studios' 4v1 online action title, Evolve, has tracked down a release date: October 21st.
Also those who pre-order the PS4, Xbox One or PC game at select retails can get the Monster Expansion Pack for free.
We have some new screens too, so check them out.
Read on for the announcement.
2K and Turtle Rock Studios, creators of the cooperative shooter classic Left 4 Dead, today announced that their upcoming multiplayer shooter experience Evolve will be released globally on October 21, 2014 for Xbox One, the all-in-one games and entertainment system from Microsoft, PlayStation 4 computer entertainment system and PC. Everyone who pre-orders Evolve from participating retailers will receive the Monster Expansion Pack, which includes the Savage Goliath skin at launch, and a new monster character when available after Evolve is released.

Evolve expertly blends cooperative and competitive multiplayer experiences as a team of four hunters face off against a single, player-controlled monster. Set on an alien planet in the distant future, players hunt their prey in adrenaline-pumping 4v1 matches. Evolve includes multiple monsters, hunters, game modes, and more than a dozen maps, providing gamers with incredible gameplay variety and nearly limitless replayability.

Evolve will be playable at E3 from June 10-12, 2014, at 2K's booth (#1301) located in the South Hall of the Los Angeles Convention Center.Evolve is available now for pre-order at participating retailers.
---
View larger
The Evolution of Multiplayer
In a savage world of man vs. nature, are you the hunter or the hunted? The creators of Left 4 Dead, Turtle Rock Studios, bring you Evolve, the next generation of multiplayer shooters where four hunters face-off against a single, player-controlled monster. Stalk your prey, execute your attack and prove you are the apex predator in adrenaline-pumping 4v1 matches.
View larger
4v1
Grab three friends and hunt the monster or stalk the humans as the evolving beast. Whichever side you choose, you will have access to powerful weapons and abilities that deliver balanced, competitive gameplay.
View larger
Hunt Together or Die Alone
Choose a hunter that fits your play style. Whether you play as the Trapper, Support, Assault, or Medic, every role is vital and teamwork is key in surviving an encounter with the monster.
View larger
Beast of Prey
As the monster – the lone predator – you are the boss battle. Use savage abilities and an animalistic sense to wreak havoc, kill the humans and prove you are the dominant species.
View larger
Savage Planet
Neither flora nor fauna are friendly on planet Shear. Fall victim to natural hazards or use them strategically against your prey.
View larger
Character Customization
Level up to unlock new upgrades, skins and perks for your favorite class: hunter or monster. Earn your infamy on the leaderboards and become the apex predator.