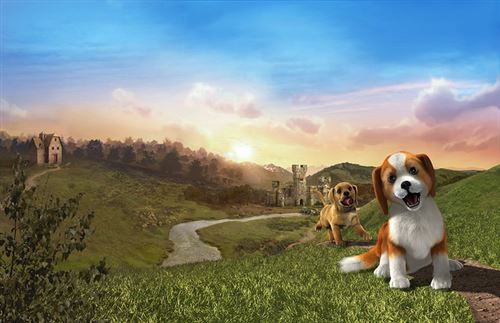 Finally, more info and new screens for the PS Vita's real killer app for 2014: PlayStation Vita Pets.
Yeah, it's Nintendogs for the PS Vita… but who cares, look how cute it is!  Actually, the developers worked in a story and a whole adventure mode, so it sounds like it could be a pretty interesting spin on the pet sim genre.
PlayStation Vita Pets is currently set for a June 3rd release. Read on for official details and a pair of screens.
PlayStation Vita Pets screens:

Info as released on the PS Blog this morning.
We are very excited to announce that we will be releasing PlayStation Vita Pets exclusively for PS Vita. PlayStation Vita Pets is no ordinary pet game! The team at Spiral House set out to make something that was more than just a pet sim – we wanted to make something that felt like a real game, with characters, fun and adventure, so that's exactly what we did.

In the game you pick from four different puppies, each with their own personality, sense of humor and character traits. Once you've gotten to know each other and learned the skills needed to venture outside the safety of your home you'll be able to embark (no pun intended) on the adventure of Castlewood Island and uncover the long lost legend of a king and his dog.

That's right; outside of the home where you dress, play with, bathe and train your dog is a whole island of adventure to explore and puzzles to solve. Together you'll be able to explore a massive forest, venture into multiple locations like spooky old mines and graveyards to ultimately make your way to the legendary castle in the center of the island, where the king's greatest treasures are hidden…

None of this is possible without your pet pal though, through nurturing, training and playing together your dog will gain the skills you both need to be able to progress deeper into the world, crawling, pulling, digging, jumping and more will all come into play if you want to be able to uncover all the secrets of Castlewood Island.

We'll share more details in the coming weeks. PlayStation Vita Pets will be available for purchase on PlayStation Store on June 3rd, just in time for summer.