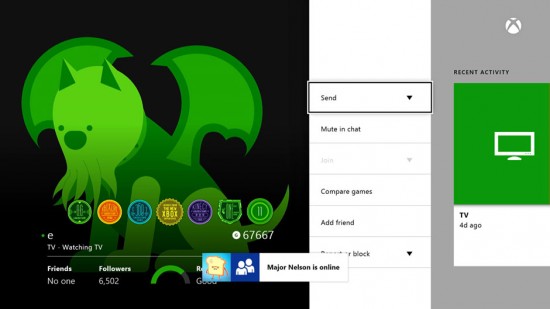 In an effort to improve the system and please as many Xbox One gamers as possible, Microsoft has been releasing new Xbox One system software updates at a pretty regular clip as of late.
As announced on the Xbox Wire, this latest and greatest update, which started rolling out last night, features the much requested Friend Notifications.  So you can now optionally be alerted when friends pop online, just like we have had on the Xbox 360 and PS3 for years now.
Game and app saves are better organized, the Kinect , Blu-ray playback and Game DVR have been improved, and even the controller and headset software has been updated.  Not a bad update!
Read on for the full list of changes.
Xbox One System Update details:

Game and app saves and updates. A game save progress bar will show you the status of your game saves. You will also be able to easily tell what games and apps are being updated or have been updated recently.
Friends improvements. Notifications will be added to see when favorites and friends sign in to Xbox Live. This was one of the most frequently requested features, so we made it a priority to include it in this update. Also, friends who are in multiplayer will be identified in the friends list.
Kinect voice and motion improvements will continue to be fine-tuned for quality and reliability of Xbox One commands. For example, we've updated some of the gesture functionality to reduce false positives on non-hand objects triggering gesture commands.
Improved GameDVR video quality through compression algorithm improvements.

Blu-ray player supports 50 Hz video output for content recorded at 50 Hz. We'll also be updating the Blu-ray Player app in the coming days to round out these improvements.
Controller and headset adapter firmware updates will reduce audio static and improve wireless connectivity.
Silent reboot after system updates and system update on demand now available. If your console is in Instant On mode, the update will happen automatically and return to standby upon completion. This means you won't need to power on your console after an update moving forward. If you want to take future updates when available without waiting for your console to do it on its own, we've added this option under system settings and you'll be able to use it next update. It will only show as available when there is an update to take.
---
The Titans have arrived
Experience the future of multiplayer gaming with the Xbox One Titanfall Edition. This bundle includes the all-in-one Xbox One entertainment console, custom Titanfall packaging, a full Titanfall game download, and a free month of Xbox Live Gold.*
Step into a war-torn future, brought vividly to life through Xbox One, and be propelled into a gaming universe unlike any other. Crafted by key developers behind the Call of Duty franchise, Titanfall builds on that experience and puts you first in the ultimate, first-person shooter.
Titanfall requires an internet connection and Xbox Live Gold Membership to play.
Titanfall game download
Take to the war zone on foot or leap into a 24-foot tall mechanized monstrosity, you decide. Play as a Pilot and maneuver through the fight with incredible agility, or operate a fast-paced Titan for the brutal maximum of strength and firepower.
The gold standard
Use your 1-month Xbox Live Gold membership to get in on all the Titanfall action; a game that folds in the best of the online multiplayer experience with the characters, story and cinematic moments you love in traditional single-player games.
Xbox One console
Xbox One was designed for today's fast-paced lifestyle. It wakes up instantly when you say, "Xbox On", and even turns on your TV. Downloads and updates happen behind the scenes, so you can jump right in. And when you need to pause, your games are suspended right where you left off, so you can resume instantly.
Kinect sensor
Kinect has been completely re-engineered to take full advantage of all that Xbox One can do. It's more precise. More responsive. More intuitive. Its unparalleled voice, vision, and motion technology lets you reach into games and entertainment like never before. Automatically sign in when you enter the room. Accelerate through a game with subtle gestures. Or navigate through your favorite TV shows with the sound of your voice. It's an entirely new Kinect for a new generation of entertainment.
Xbox One wireless controller
The Xbox wireless gaming controller just got better with over 40 technology innovations. New Impulse Triggers deliver precise fingertip feedback for more realistic experiences. Kinect will auto-pair your controller instantly, even when you hand it to a friend during a game. The thumbsticks, D-pad, and controls have been streamlined for improved precision and comfort in your hands.
Xbox One chat headset
Keep your in-game communications crisp with the Xbox One Chat Headset. Hear friends and foes in crystal-clear digital audio. The Chat Headset is designed for comfort during long gaming sessions. Plus, you can adjust the mute and volume settings without taking your hands off the controller.
Be amazed
Welcome to a new generation of games and entertainment. Where games push the boundaries of realism. And television obeys your every command. Where listening to music while playing a game is a snap. And you can jump from TV to movies to music to a game in an instant. Where your experience is custom tailored to you. And the entertainment you love is all in one place. Welcome to the all-in-one, Xbox One.
Games plus entertainment
With the best games, TV, movies, music and sports all in one place, you don't have to compromise. Switch instantly from one to another, or enjoy two at once, so you never miss a moment. And talk with family and friends on Skype while watching TV.
The best games
Xbox One was built by gamers, for gamers. The perfect balance of power and performance, Xbox One takes gaming to a whole new level. Stunning realism. Advanced AI that adapts to the way you play. And a new generation of multiplayer that is both smarter and faster.
Do two things at once
Why choose between two things you love when you can do both at the same time? Xbox One lets you quickly jump from TV to a movie to a game. And then snap them side by side to do two things simultaneously. Music and games. Skype voice calls and live sports. Split your screen, not your time.
Be together even when you are apart
Skype has been specially designed for Xbox One. Chat with friends on your TV in stunning HD. Use Skype in Snap mode to chat while you watch TV. Or participate in group video Skype calls with up to three people around the world, all from the comfort of your living room.
* Titanfall requires Xbox Live Gold membership. Game download card inside; up to 40 GB required. Xbox One system software uses a significant amount of storage; less internal storage will be available to users. 500 GB = 500 billion bytes.