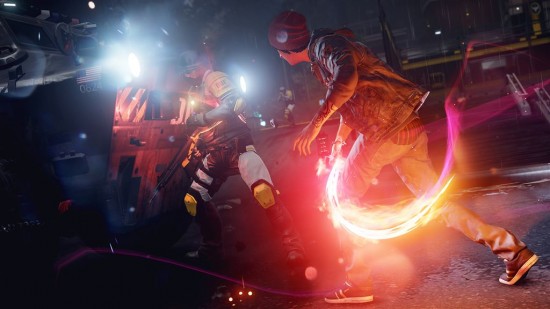 Sony and Sucker Punch this morning have something to celebrate… inFamous: Second Son, one of the most anticipated post launch-window PS4 exclusives, has topped 1 million units sold in less than 10 days worldwide.
After playing through the game twice and achieving 100% (and the Platinum trophy), we certainly concluded that it was well worth picking up.
Read on for the announcement from Sony.
Just a few short weeks ago we officially released inFAMOUS Second Son, the most recent power-filled adventure from Sucker Punch Productions exclusively for the PlayStation 4 system. Immediately following the title's announcement over a year ago, it was clear so many of you were eagerly anticipating Second Son's release, the next installment to the inFAMOUS franchise. It was great to see such a warm reception to the title when it finally hit store shelves last month, and for all of us here at PlayStation and the team at Sucker Punch, it's been really rewarding to share this launch with all of you. It's exciting to see so many passionate inFAMOUS fans as you share your gameplay moments across all the social media sites including spectacular screenshots on Twitter and live streams on Twitch and Ustream.

So it comes with great excitement to learn that within the first nine days of launch, global sales of inFAMOUS Second Son exceeded over 1 million units*, making Second Son the fastest selling inFAMOUS title to date!

A huge congratulations goes out to the team over at Sucker Punch for creating such a wonderful game, a true testament to their passion as developers and commitment to their fans, and a great big thanks to all of you who have picked up the game and have shown us how you enjoy your powers.

There is still more Second Son to come. If you've finished both playthroughs and are still looking for more ways to play, we encourage you to check out inFAMOUS Paper Trail, the free bonus content that continues to expand on the Second Son universe. This six week episodic storyline introduces additional in-game missions that will unravel the mysteries behind the D.U.P. Again, it's absolutely free for everyone who has a copy of inFAMOUS Second Son and a PlayStation Network account. Part Four releases at the end of the week.

Enjoy (your power)!

*Includes both Blu-ray Disc sell-thru quantities and download version sales on PlayStation Store as of March 29, 2014.
---
Enjoy Your Power
inFAMOUS Second Son, a PlayStation 4 exclusive, brings you an action adventure game where surrounded by a society that fears them, superhumans are ruthlessly hunted down and caged by the Department of Unified Protection. Step into a locked-down Seattle as Delsin Rowe, who has recently discovered his superhuman power and is now capable of fighting back against the oppressive DUP. Enjoy your power as you choose how you will push your awesome abilities to the limit and witness the consequences of your actions as they affect the city and people around you.
Limited Run!
Providing more for the same price as the regular retail copy of inFAMOUS Second Son, the Limited Edition packs additional in-game missions that reveal more about the events leading up to Delsin's story. Completing these added missions will unlock an exclusive in-game jacket designed in honor of Cole MacGrath!
Limited Edition Contents
Unlock Cole's Jacket for Delsin to wear in the Bonus Exclusive Downloadable Content, Cole's Legacy:
Uncover what happened between the devastating events of inFAMOUS 2 and inFAMOUS Second Son in Cole's Legacy.
Cole MacGrath's actions in New Marias set in motion a chain of events leading to the now forceful occupation of Seattle by the oppressive Department of Unified Protection. Cole's Legacy bridges the gap in time with a series of missions Delsin Rowe must complete that reveal unique insights into how the world of inFAMOUS Second Son came to be.
Key Features
A New Origin Story: Step into an open world adventure that offers a realistic take on being superhuman
Choice and Consequence: Witness how the city, the people you encounter, and even the story itself is all affected by the actions you take
Control Multiple Powers: Draw powers out from other superhumans, creating your own set of distinct powers to use as you see fit
Freely Explore the City of Seattle featuring highly detailed environments, realistic weather, reflections, shadows and lighting