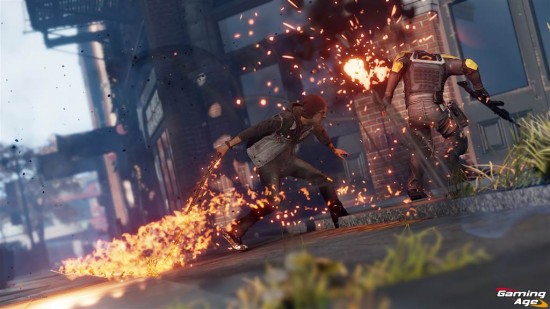 Sucker Punch is pulling out all the stops to please their inFamous fans, and after selling more than 1 million inFamous Second Son copies in 9 days, they'd be crazy not to do so.
The studio today announced that the upcoming patch, which was announced not too long ago, will enable a 30fps cap, no HUD and time-of-day options, is set to go live tomorrow, April 17th. They apparently had time to sneak in a few new features and fixes too, including a fairly robust photo mode which was revealed on the PS Blog.
Check out the photo mode in action in the new video.

Other changes include:
A handful of localization text changes, and a couple of fixes for rare crashes in the game (Thanks to all of you who uploaded reports on those, they were extremely helpful!).
If your controller runs out of batteries in the middle of gameplay, your game will pause. Our art director pulled a hamstring scrambling to get his second controller mid-boss-battle, so we needed to fix this.
If you're choosing expert difficulty, we let you know within the options dialog if you're qualified for the "Unstoppable" trophy the moment you opt in.
Photo Mode.
---
Enjoy Your Power
inFAMOUS Second Son, a PlayStation 4 exclusive, brings you an action adventure game where surrounded by a society that fears them, superhumans are ruthlessly hunted down and caged by the Department of Unified Protection. Step into a locked-down Seattle as Delsin Rowe, who has recently discovered his superhuman power and is now capable of fighting back against the oppressive DUP. Enjoy your power as you choose how you will push your awesome abilities to the limit and witness the consequences of your actions as they affect the city and people around you.
Limited Run!
Providing more for the same price as the regular retail copy of inFAMOUS Second Son, the Limited Edition packs additional in-game missions that reveal more about the events leading up to Delsin's story. Completing these added missions will unlock an exclusive in-game jacket designed in honor of Cole MacGrath!
Limited Edition Contents
Unlock Cole's Jacket for Delsin to wear in the Bonus Exclusive Downloadable Content, Cole's Legacy:
Uncover what happened between the devastating events of inFAMOUS 2 and inFAMOUS Second Son in Cole's Legacy.
Cole MacGrath's actions in New Marias set in motion a chain of events leading to the now forceful occupation of Seattle by the oppressive Department of Unified Protection. Cole's Legacy bridges the gap in time with a series of missions Delsin Rowe must complete that reveal unique insights into how the world of inFAMOUS Second Son came to be.
Key Features
A New Origin Story: Step into an open world adventure that offers a realistic take on being superhuman
Choice and Consequence: Witness how the city, the people you encounter, and even the story itself is all affected by the actions you take
Control Multiple Powers: Draw powers out from other superhumans, creating your own set of distinct powers to use as you see fit
Freely Explore the City of Seattle featuring highly detailed environments, realistic weather, reflections, shadows and lighting