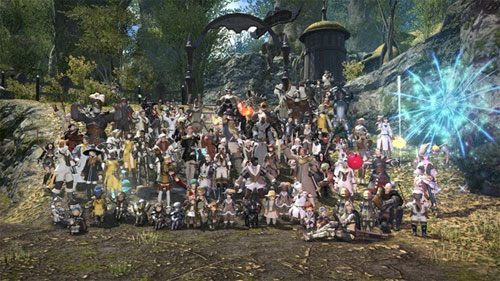 It's difficult to gauge whether 2 million "registered accounts" is a great figure for Final Fantasy XIV: A Realm Reborn, but Square Enix seems to be pretty happy to announce the milestone, so we're assuming it is.
This number is worldwide, across all platforms (PC, PS3 and as of this week, the PS4). A registered account doesn't necessarily equal a sale or a user who is paying the monthly fee to access the game, but it sounds more than solid to us.
Read on for the announcement from Square Enix.
Final Fantasy XIV: A Realm Reborn PS4 launch trailer:

Square Enix Inc., today announced that the total number of registered accounts for FINAL FANTASY XIV: A REALM REBORN now exceeds 2 million globally.

The title offers this growing community of players multiple gaming platform options from the PC to the PlayStation 3 computer entertainment system and now the PlayStation 4 computer entertainment system and PlayStation Vita handheld entertainment system (with Remote Play).  Also with the major patch updates like the most recent Patch 2.2, "Through the Maelstrom," players can enjoy exciting new playable content on a regular basis.

FINAL FANTASY XIV: A Realm Reborn for the PlayStation 4 system is available for $39.99 and $29.99 for PlayStation 3 system and Windows-PC. A free 30-day trial is included when registering the game on a new platform, with monthly subscriptions starting at $12.99. For players who are upgrading their accounts from the PlayStation 3 system to the PlayStation 4 system, please refer to the details provided [here] as certain restrictions may apply.

For more information about the PlayStation 4 system version, please visit: http://na.finalfantasyxiv.com/pr/ps4/
---
Enter the realm of Eorzea with players from around the world in FINAL FANTASY XIV: A Realm Reborn for PlayStation 4. FINAL FANTASY XIV: A Realm Reborn is a massively multiplayer online role-playing game (MMORPG) for PlayStation 4, PlayStation 3 and Windows PC that invites you to explore the realm of Eorzea with friends from around the world. Form a party and adventure with a multitude of players from across the globe. Forge friendships, mount chocobos, and board airships as you and your companions create your own unique stories in Eorzea. Set out alone of enlist the aid of friends as you undertake epic quests, battle familiar FINAL FANTASY monsters, and acquire unique abilities and equipment. All the classic elements from the series that you have come to know and love are waiting! Embark of the adventure of a lifetime to help reforge the fate of Eorzea!