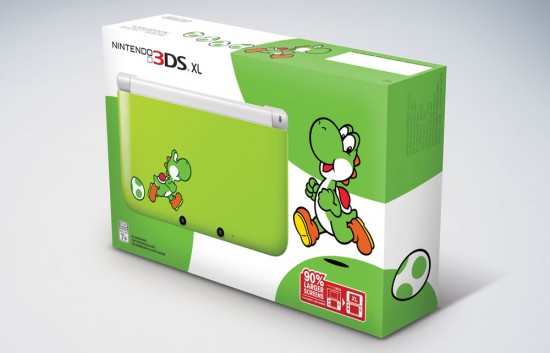 Do you collect Nintendo 3DS handhelds or are you just looking for a unique color and design before you pick up your first? Well Nintendo this morning announced an egg-cellent, green-colored, Yoshi themed Nintendo 3DS XL which is set to hit stores in just about 2 weeks.
The Yoshi Edition Nintendo 3DS XL, which includes images of Yoshi and Yoshi eggs on the front and back,  will launch on March 14th, alongside Yoshi's New Island.  The Yoshi Edition will set you back $199.99 though it doesn't seem to actually include a copy of New Island, so you'll have to pick up your own.
Read on for the announcement.
Launching on the same day as Yoshi's latest video game adventure, 

Yoshi's New Island

, is a green Yoshi Edition 

Nintendo 3DS XL 

system that features an image of Yoshi on the front, as well as a series of cute Yoshi eggs on the back. The system will launch on March 14 at a suggested retail price of $199.99.

Yoshi's New Island is the next game in the charming Yoshi's Island series, and the first on Nintendo 3DS. In the beautiful side-scrolling platforming adventure, players take control of Yoshi as he carries Baby Mario and helps him reunite with his kidnapped brother. Along the way, Yoshi will throw eggs that he lays, including the massive Mega Eggdozers, and experience a variety of inventive transformations with unique controls.

Yoshi's New Island also features helpful items like the Flutter Wings, which let Yoshi fly through the air. This item is great for players who have trouble completing a level, and ensures that people of all ages and skill levels can enjoy the game. The Yoshi's New Island game launches separately on March 14 at a suggested retail price of $39.99.

For more information about Yoshi's New Island, visit http://yoshisnewisland.nintendo.com.
---
Yoshi's New Island
Yoshi is back and he's bustin' out the big eggs. Crush your surroundings and create paths with his new Mega Eggdozers in a brand-new platforming adventure! It'll take more than egg tosses and flutter jumps to lead fledgling Mario through a dangerous new island littered with inventive power-ups. Can you save poor Luigi?
Guide Yoshi and a young Mario through all-new stages, from slippery slopes to watery wonderlands. As Yoshi fans know, it's all about the collectibles and they're more enticing than ever to find. You'll need the new Mega Eggdozers to beat puzzling platforming moments and locate every collectible and surprise. They're hiding—are you seeking?
Key Features:
Discover a new island chock full of clever platforming challenges
Crush your surroundings to find new paths and secrets with the Mega Egg
Immerse yourself in a delightful, Yoshi-ridden world
Yoshi will be the hero of this game, guiding you through on a quest to save Luigi
View Larger
The new Mega Eggdozer will help clear the path and lead you to surprises and success along the way
View Larger
A traditional platformer game with all new stages
View Larger