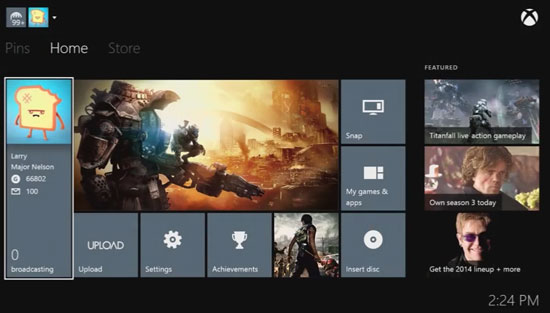 Come and get it fellow Xbox One owners… the enhancements and changes we have all been requesting are now available in the latest Xbox One system software update.
The update comes just in time for the release of Titanfall, and features a plethora of communication enhancements which includes a better party system, improved multiplayer and friends functionality, Twitch broadcasting and much more.
For those who want to see some of these changes in action, check out the walkthrough below.
A Guided Tour of Everything New in the Xbox One March Update:

Here's the full changelist from Major Nelson.
Improved Multiplayer & Party chat

Cross title party chat
Party chat on by default
Easier multiplayer invites
Easier multiplayer joining
Ability to see what the people in your party are doing

Improved Friends List + Profile

Improved friends list utility & speed of access
Ability to see people you recently played games with
See when friends are broadcasting, including live broadcast thumbnails in activity feed
Get to a friend's profile faster using type-ahead suggestions
Contextual app menu actions on friends list and activity feed items
Enabled more multiplayer (join and invite) actions on user profiles
54 new contest-winning gamerpics

Twitch TV live streaming support

Broadcast gameplay on Twitch.TV through Xbox LIVE (When the updated Twitch app ships next week.)
Voice support for starting and ending broadcast

Bringing out social in home

See favorite friends currently online
See friends broadcasting gameplay

Miscellaneous shell improvements


Improved notification center experiences including "quiet mode"
View Game Clips while in snap mode
Protect user settings with passkey

Browser improvements


Control Bing and Google maps with gesture and controller
Quick search when highlighting a term on a page
When searching from Bing search on the console, direct link to Internet Explorer in order to see additional web results.

New Devices – Driver and Firmware updates

Firmware update to the Xbox One controller to support the Xbox One stereo headset adapter
Support for 1st and 3rd party headsets
Driver updates for the Xbox One Media Remote

SmartGlass Improvements

Push notification to your device for Xbox Live messages
Quickly see what a friend is doing including presence and recent
Enhanced viewing of personal and a friend's game progress and clips
Ability to close snap from SmartGlass

Live TV

50Hz fix – users can set the Live TV app to display at 50Hz for full or fill modes
Volume up/down adjustments – user can tailor the number of volume increments when using "volume up" or "volume down" commands
IR blasting of power & volume to TVs/AVRs in all regions
AVR setup maps to include model number for most sound bars or AVRs when setting up TV

Improved  Audio output support

SPDIF (optical out) now supports 5.1 Dolby Digital – enabling devices such as sound bars with only Optical In to be able to receive 5.1 Dolby Digital from console over optical
HDMI output now supports stereo uncompressed, 5.1 uncompressed, 7.1 uncompressed or 5.1 Dolby Digital live or 5.1 DTS
---
The Titans have arrived
Experience the future of multiplayer gaming with the Xbox One Titanfall Edition. This bundle includes the all-in-one Xbox One entertainment console, custom Titanfall packaging, a full Titanfall game download, and a free month of Xbox Live Gold.*
Step into a war-torn future, brought vividly to life through Xbox One, and be propelled into a gaming universe unlike any other. Crafted by key developers behind the Call of Duty franchise, Titanfall builds on that experience and puts you first in the ultimate, first-person shooter.
Titanfall requires an internet connection and Xbox Live Gold Membership to play.
Titanfall game download
Take to the war zone on foot or leap into a 24-foot tall mechanized monstrosity, you decide. Play as a Pilot and maneuver through the fight with incredible agility, or operate a fast-paced Titan for the brutal maximum of strength and firepower.
The gold standard
Use your 1-month Xbox Live Gold membership to get in on all the Titanfall action; a game that folds in the best of the online multiplayer experience with the characters, story and cinematic moments you love in traditional single-player games.
Xbox One console
Xbox One was designed for today's fast-paced lifestyle. It wakes up instantly when you say, "Xbox On", and even turns on your TV. Downloads and updates happen behind the scenes, so you can jump right in. And when you need to pause, your games are suspended right where you left off, so you can resume instantly.
Kinect sensor
Kinect has been completely re-engineered to take full advantage of all that Xbox One can do. It's more precise. More responsive. More intuitive. Its unparalleled voice, vision, and motion technology lets you reach into games and entertainment like never before. Automatically sign in when you enter the room. Accelerate through a game with subtle gestures. Or navigate through your favorite TV shows with the sound of your voice. It's an entirely new Kinect for a new generation of entertainment.
Xbox One wireless controller
The Xbox wireless gaming controller just got better with over 40 technology innovations. New Impulse Triggers deliver precise fingertip feedback for more realistic experiences. Kinect will auto-pair your controller instantly, even when you hand it to a friend during a game. The thumbsticks, D-pad, and controls have been streamlined for improved precision and comfort in your hands.
Xbox One chat headset
Keep your in-game communications crisp with the Xbox One Chat Headset. Hear friends and foes in crystal-clear digital audio. The Chat Headset is designed for comfort during long gaming sessions. Plus, you can adjust the mute and volume settings without taking your hands off the controller.
Be amazed
Welcome to a new generation of games and entertainment. Where games push the boundaries of realism. And television obeys your every command. Where listening to music while playing a game is a snap. And you can jump from TV to movies to music to a game in an instant. Where your experience is custom tailored to you. And the entertainment you love is all in one place. Welcome to the all-in-one, Xbox One.
Games plus entertainment
With the best games, TV, movies, music and sports all in one place, you don't have to compromise. Switch instantly from one to another, or enjoy two at once, so you never miss a moment. And talk with family and friends on Skype while watching TV.
The best games
Xbox One was built by gamers, for gamers. The perfect balance of power and performance, Xbox One takes gaming to a whole new level. Stunning realism. Advanced AI that adapts to the way you play. And a new generation of multiplayer that is both smarter and faster.
Do two things at once
Why choose between two things you love when you can do both at the same time? Xbox One lets you quickly jump from TV to a movie to a game. And then snap them side by side to do two things simultaneously. Music and games. Skype voice calls and live sports. Split your screen, not your time.
Be together even when you are apart
Skype has been specially designed for Xbox One. Chat with friends on your TV in stunning HD. Use Skype in Snap mode to chat while you watch TV. Or participate in group video Skype calls with up to three people around the world, all from the comfort of your living room.
* Titanfall requires Xbox Live Gold membership. Game download card inside; up to 40 GB required. Xbox One system software uses a significant amount of storage; less internal storage will be available to users. 500 GB = 500 billion bytes.