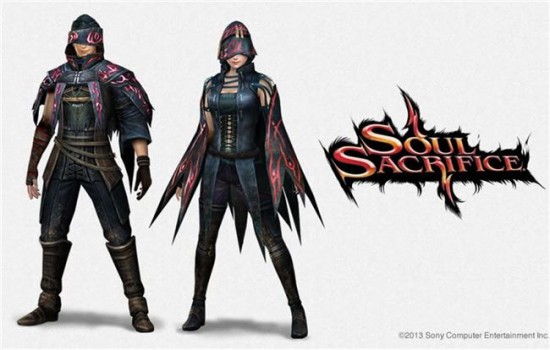 Tecmo Koei's hit PS Vita Monster Hunter-style game is crossing over with Sony's hit Monster Hunter-style PS Vita game in the latest batch of free Toukiden DLC.
Toukiden users can equip the Noble Raiments armor and take on the Cerberus from Soul Sacrifice in a pair of new multiplayer missions beginning today.
Check out a few screens/art and read on for the announcement.
Toukiden x Soul Sacrifice screens:

TECMO KOEI Europe is thrilled to announce a cross over collaboration between critically acclaimed tactical action title, TOUKIDEN: THE AGE OF DEMONS, and fan favourite action adventure SOUL SACRIFICE.

Toukiden players will be able to test their skills in two new multiplayer missions featuring one of the most feared monsters in the Soul Sacrifice universe: the three-headed guardian Cerberus. These two missions, entitled "Hell's Guard Dog" and "Dogs of War", can be accessed via the Portal Stone and multiplayer lobbies. Due to their difficulty they are only recommended for slayer groups of some level and skill, with well upgraded equipment!

In addition players will be able to roam the battlefields dressed up in a new piece of armor as the Noble Raiment's from Soul Sacrifice will be available via PSN on the 26th of March.

Both missions and the new armor will be offered free of charge via the PlayStation Network store.
---
Slay dangerous Oni in this brand new game from Tecmo Koei's Omega Force. TOUKIDEN takes Tecmo Koei's expertise in historically themed games to an expansive fantasy world influenced by historical and traditional Japanese elements. Developed by the team that created Dynasty Warriors, this new franchise casts players in the role of the demon-fighting warrior, known as a Slayer. Starting from the Utakata Village headquarters where they will accept quests, players will venture out to battle monstrous and deadly Oni (demons) before they destroy all of humanity. Players can select party members from a supporting cast of characters, or join together with up to three other players through ad-hoc mode.