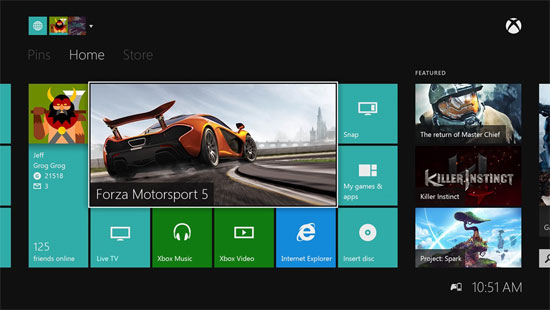 The Xbox One update we were all waiting for is finally just about here… the one with a battery life indicator and storage space information!
Well maybe not THE update, but it's useful to have those pieces of data available finally. Stay tuned for the update on February 11th.
Further out is another update on March 4th that cleans up the party and multiplayer system just in time for Titanfall.
Read on for the details from the Xbox Wire.
I'm excited to be able to share details with you today about several product updates we'll be delivering for Xbox One starting next week.  The team has been really excited to see the gameplay on Xbox One and the millions of hours of fun our fans have experienced since launch. We've also been busy listening to your feedback and working hard to incorporate it into Xbox One as soon as possible. We remain incredibly energized and we are aggressively working to make Xbox One better, faster than ever before.

Xbox One is a platform for continuous innovation and new consumer experiences over time.  Just as we did with Xbox 360, Xbox One will have regular updates to deliver new features and platform experiences designed to delight you.  We're always listening to you and we love your feedback, so keep it coming.

February 11 system updates

On February 11, the first update will be delivered to customers who sign into their Xbox One.  It features many new improvements – including lots of behind-the-scenes updates for developers building apps and games for Xbox One, several new features we believe Xbox fans will love, stability and product updates to improve the customer experience, and continuous improvements to the quality of Kinect voice so commands become more fluid and responsive over time.  While we won't be going into all of the details of the product updates today, we will be sharing more information soon.

Some of the features you can expect to see on February 11 include:

The ability to see and manage your storage space. With this update, you will find it easy to find how much space your content takes up and better manage your content. You can also control your install lineup and more easily manage your download queue. We've separated My Games and My Apps into separate lists, so you can easily create separate queues for both. Now you can pick the order in which you want your content to load and we've added a boot progress indicator so you can better track updates while they load.
The battery power indicator is back! You can see it right on the home screen, so you can easily track how much battery life is left on your controller.
And, you will be able to use your USB keyboard with your Xbox One.

These are just a few of the many updates we will be shipping on February 11. We'll share more details on these and other upcoming features in the coming weeks. We have several surprises in store that we think you'll love.

March 4 system updates – countdown to "Titanfall"

On March 4, in advance of what is expected to be the biggest game launch of the year, we will be delivering another system update to prepare your Xbox One for "Titanfall."  This update will contain  many new features and improvements, most significantly to our party and multiplayer systems.  Available on March 11, "Titanfall" is a team-based online multiplayer game that showcases the power of Xbox Live, and we will be shipping a new party and multiplayer system that will help make "Titanfall" the must-have game for this generation.

This post is the first of many announcements and sneak peeks at features in the system updates. We've been carefully listening to your feedback and look forward to delivering many new features that will make Xbox One even better. We're just getting started and can't wait to share more information in the coming weeks.
---
Get more with Xbox One.
Introducing Xbox One. Where the best games, multiplayer, and your favorite movies, music, sports, and live TV come together in one place. Xbox One games look and feel incredibly real, with cinematic gameplay that rivals Hollywood. Watch TV or chat with friends on Skype while you play, and keep on playing while smarter matchmaking happens behind the scenes. With Xbox One, you can snap two things side-by-side on your TV, and switch from one to another instantly. Cloud-powered and built for the digital age, Xbox One is designed to keep getting better over time.*
Xbox One delivers an all-new gaming and entertainment experience that will transform how you play. Xbox One brings together the best games, the most reliable service and rich entertainment all-in-one system that is built for today and tomorrow.
The best games.
The most award-winning exclusive games at E3.
Get it first - all Call of Duty: Ghosts downloadable content and many more.
Adaptive AI that learns to play like you.
The best multiplayer and service.
Better matchmaking with Smart Match.
No jerks - reputation system helps keep annoying players out of your games.
No waiting in lobbies - play, watch TV, or surf the web while matchmaking happens.
Games plus entertainment.
Never miss a moment - get multiplayer alerts while you watch TV.
Switch instantly from a game to TV, a movie, music and more.
Snap an app next to a game and do two things at once.
Built for the future.
The Digital System - built for the digital age using the latest technology and the power of the cloud.
Keeps getting better - "cloud powered" means Xbox One and games grow with you over time.
Advanced voice and motion control open up new game experiences like never before.
Get the facts.
Play Xbox One games online or offline.
Your Xbox One does not need to be connected for you to enjoy offline features of games. In fact, you can take the Xbox One anywhere and play any disc-based Xbox One game on it. The only times you need an online connection are for initial set-up of Xbox One, and to get the latest system and title updates before you start playing some games.
Share, trade-in, resell, gift, & rent game discs to your heart's content.
Use Xbox One's disc-based games just like you do today. There are no limitations to using and sharing them: it works like it does today on Xbox 360. If you'd rather get your games digitally, you can purchase from Xbox Live and get instant access to playing.
Play anywhere with your own Xbox Live Gold account.
A single Xbox Live Gold membership works across both Xbox One and Xbox 360 – your membership covers both. And you can log into a friend's Xbox One and access all your downloadable games, preferences, and apps.
You control your privacy.
You decide how personalized Xbox One is to you and your family, including privacy settings, manual or automatic sign-in, and how data is used. And when you play games or enjoy apps that use sensitive personal data, such as videos, photos, and facial expressions, no one except you can access it, without your express permission.
Kinect or Controller: There are a variety of ways to interact with Xbox One.
Depending on the game or app, you can control Xbox One using voice commands and gestures, a controller, a remote control or your Xbox One SmartGlass device. It is designed to interact with you in multiple ways.
Easily turn Xbox One and Kinect on or off.
To turn off your Xbox One, just say "Xbox Off." This puts Xbox One into standby mode where it's only listening for the voice command, "Xbox On." You can also turn off your Kinect through the system settings, or you can simply unplug it. Xbox One does not require a Kinect to be plugged in for the system to function.
Your Gamertag and Gamerscore follow you to Xbox One.
No need to worry: you can bring your Xbox Live Gamertag and Gamerscore with you to Xbox One. Your Gamerscore will be automatically updated once you have connected to Xbox Live.
Communicate with Xbox Live Gold friends using messaging or Skype.
With Xbox One and an Xbox Live Gold membership, you can use Skype to voice chat with any platform that supports it. If Skype isn't supported (like on the Xbox 360), you'll still be able to see which of your friends is online and message them.
Your NFL on Xbox One.
With Xbox One, step into the huddle and experience the NFL in an all-new light—where you are at the center of your NFL world. With the NFL on Xbox One, stay connected to all the latest NFL news, video highlights and stories around-the-clock, and keep tabs on live stats and scores from around the league. Personalize your experience to follow all the latest from your favorite team, and with built-in NFL.com Fantasy Football you can even keep tabs on your Fantasy points in real-time while watching live TV broadcast games.**
All your NFL, all the time.
The NFL on Xbox One brings together the best of NFL.com, NFL Fantasy, and NFL Network all together on your TV in an integrated way. Get all the latest news from around the League, customize your highlights based on your favorite team, and track real-time scores and stats on Sunday.**
Fantasy Football on your TV.
NFL Fantasy Football comes to life on your TV with Xbox One, allowing you to manage your team and track your League in your living room like never before. Built-in NFL.com Fantasy allows you to set your lineup, watch highlights from your players or prospects, and even receive real-time scoring updates as you track your games on Sunday. Snap your Fantasy next to live TV or gaming and never miss a scoring update again.**
Personalized for your favorite team.
Personalize the My Team channel so that it follows all the stories, video highlights, stats, standings, and news from just your favorite team and its players. Watch all the highlights from over the weekend, or get ready for next week's game with tailored news segments and a curated Twitter feed. It's the best of your NFL team, all in one place on your TV.**
What's in the Box
Xbox One Console
Kinect Sensor for Xbox One
Wireless Controller
Chat Headset
HDMI cable
Power Supply
* Advanced TV hardware required. Games, add-ons and media content sold separately. Initial set-up and some games and features require broadband internet; ISP fees apply. Online multiplayer, Skype and some features also require Xbox Live Gold membership (sold separately) and/or additional requirements. See xbox.com/xboxone.
** The NFL on Xbox One, including NFL.com Fantasy Football, requires advanced TV hardware, broadband internet, and Xbox Live Gold membership (sold separately). To view NFL Network content users must have a television service provider that carries the NFL Network channel. Additional requirements may apply for some features. See xbox.com/live.