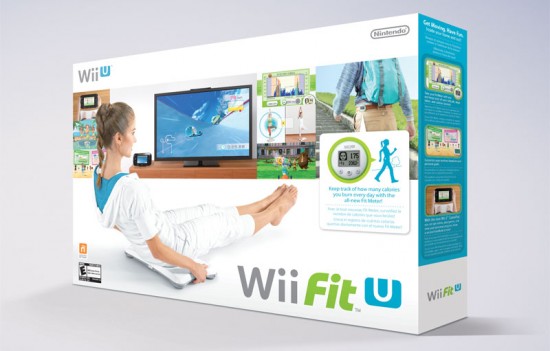 Smartly taking advantage of many people's New Year's resolutions, Nintendo is set to release a pair of Wii Fit U bundles for the Wii U in the very near future.
Even though Wii Fit U is still available as a free trial download (through January 31st), Nintendo is bundling the retail version with the Fit Meter and/or Balance Board accessories. Wii Fit U with both accessories will retail for $89.99; Wii Fit U with just the Fit Meter will cost $49.99.
The company is also teaming up "fitness expert" Kathy Kaehler to help promote Wii Fit U.
Read on for all the details.
It's a new year. Why not start it off with a new "U"? On Jan. 10, the retail version of Wii Fit U for Wii U hits stores, just in time to help people get started on their New Year's resolutions to be more active and get fit. But Wii Fit U doesn't require heavy equipment or expensive gym memberships. With Wii Fit U, users can get active by navigating a luge course, spraying a water hose, bouncing on a giant trampoline and even grabbing the new Fit Meter to continue their workouts on the go. Fitness doesn't get any more fun than this.

"Wii Fit U makes fitness fun. It's as simple as that," said Scott Moffitt, Nintendo of America's executive vice president of Sales & Marketing. "Wii Fit U is a great option for busy moms and families who want to stay active in the comfort of their own homes – which is perfect during the cold winter months."

Wii Fit U allows users to discover fun new ways to get up and get moving using their Wii U console and Wii Balance Board accessory. The game features some of the best activities from the original Wii Fit and Wii Fit Plus games, as well as new activities that incorporate the Wii U GamePad controller. Wii Fit U bundles also come packaged with a new activity meter called the Fit Meter, which is designed to sync up with the game and track daily routines. People can carry the Fit Meter with them anywhere they go, and then easily sync it to their Wii Fit U profiles to track daily activities like steps taken and calories burned. If the user doesn't reach the calorie target, the game will propose a variety of Wii Fit Uexercises to help bridge the gap. All members of the family can even own their own Fit Meter, allowing them to create their own profiles and compare their fitness progress and activities with each other. (The Fit Meter can be purchased separately at a suggested retail price of $19.99.)

In addition to the retail launch of the game on Jan. 10, Nintendo is partnering with celebrity trainer and fitness expert Kathy Kaehler, who has trained celebs such as Jennifer Aniston, Drew Barrymore, Kim Kardashian, Cindy Crawford and Julia Roberts. Kaehler's Wii Fit UChallenge encourages Wii U owners to incorporate Wii Fit U into their busy lives and to continue to stay active throughout the entire year.

"As a mom of three kids, I know how difficult it can sometimes be to find time to go to the gym," Kaehler said. "The exercises in Wii Fit U are designed to accommodate busy schedules and can be accomplished throughout the day. Plus, it's a fun activity for the entire family."

Wii Fit U is the most customizable and shareable game in the series. Users can create their own personalized workouts or select from multiple recommended workouts based on their fitness goals. These workouts can even be tracked using Miiverse (broadband Internet access is required). Members of these Miiverse gym communities can view their favorite workouts, as well as track popular activities and total community calories burned.

Wii Fit U requires the use of the Wii Balance Board accessory. A bundle that includes the Wii Fit U game, a Wii Balance Board accessory and the Fit Meter accessory will be available in stores at a suggested retail price of $89.99. For those who already own a Wii Balance Board, an additional bundle with the Wii Fit U game and Fit Meter will be available in stores at a suggested retail price of $49.99. In addition, a one-month free trial of the full game experience can also be downloaded in the Nintendo eShop until Jan. 31. Users that download this free trial can keep the full game permanently by purchasing and syncing a Fit Meter.

For more information about Wii Fit U, visit http://wiifitu.nintendo.com.
---
Wii Fit U reinvents fitness fun again with the Wii U GamePad controller, Wii Balance Board accessory, and the new Fit Meter. Carry the Fit Meter accessory to track daily activity, then sync it to your Wii U to compare accomplishments online. With over 70 activities, Wii Fit U makes fitness so fun it motivates you to get active and stay active!
The Wii Fit series makes fitness fun for everyone. And now with Wii Fit U, you can workout at home or on the go with the Fit Meter, a handy device that tracks your activity (i.e. calories burned, steps taken, elevation changes). Then sync the Fit Meter data to your in-game profile with one button press. Wii Fit U software lets you create routines, review progress, and compare with friends in online Gym Communities and Miiverse. Shape up with fun activities, from new ones using the GamePad to Wii Fit favorites. View your profile privately on the GamePad or get active with Off-TV play. Explore tons of options to create your perfect workout.
Your own personal trainer will help you track your progress and meet your goals.
View Larger
New, fun "games" utilize the Wii U GamePad and help you stay fit!
View Larger
Take the Fit Meter with you to track your fitness progress throughout all of your day to day activities.
View Larger
Challenge yourself with unique ways of staying fit that can only be found on Wii U!
View Larger
Key Features
Shape up with a wide range of fun activities including Yoga, Strength exercises, Balance Games, Dance, Aerobic activities, and more!
Whether at home or on the go, the all-new Fit Meter tracks your progress, from calories burned to steps taken—even changes in elevation!
With the touch of a button, you can easily sync your Fit Meter data to compare your progress with friends or see how far you've gone in Walking Challenges, Altitude Challenges, and more.
Enjoy new and unique dual-screen activities like Hosedown or Trampoline Target that take advantage of the Wii U GamePad controller and your TV.
The Wii U GamePad offers both privacy and flexibility. By providing a second screen, it lets you perform activities while others watch TV, view personal progress on your own private screen, or even watch and adjust your form using the built-in camera.
Create, join, and browse online Gym Communities to share profile info (e.g. achievements, high scores, favorite activities) to keep yourself, your friends, and your family motivated.
Cheer on a friend or share parts of your Wii Fit U experience via Miiverse.
Create your own personalized workout routine with Yoga, Strength exercises, and other activities or select from recommended routines based on your fitness goals.
The new Dance activity allows you to choose from a variety of dance styles with varying difficulty levels.
Set goals and track your daily progress with easy-to-understand charts and graphs.
Choose a Mii character when creating your own Wii Fit U profile to help track your weight, height, age, and Body Mass Index (BMI).
Data from Wii Fit or Wii Fit Plus can be easily transferred into a Wii Fit U profile.
Previous Wii Fit and Wii Fit Plus owners who have a Wii Balance Board do not need to purchase a new one—the Wii Balance Board is compatible with Wii Fit U.