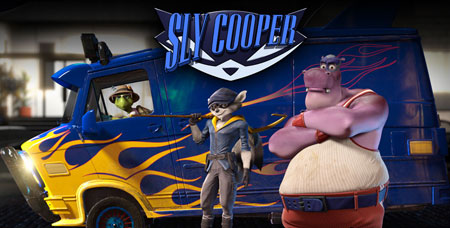 The idea of Sly Cooper starring in a full-length motion picture is somewhat unexpected, but hey, it's definitely happening.
Sony, Blockade Entertainment and Rainmaker Entertainment today released the trailer for the CG-animated Sly Cooper movie, which doesn't hit until 2016.
As expected, Sly and the gang look a bit… different as compared to their cel-shaded videogame versions. Even with the slightly more "realistic" Sly, they seemed to have nailed the dark, comic book style aesthetics the games are known for.
Check out the trailer below and let us know what you think.
Sly Cooper Movie – Official Teaser trailer:

Jump on over to the official site as well.
---
Sly and the Gang are back in an epic new adventure!
The critically-acclaimed Sly Cooper series returns with an epic brand new adventure for the PlayStation3 system. The pages of the Thievius Raccoonus are disappearing and Bentley, now keeper of the ancient master thieving book, must round up the gang and save the Cooper Clan legacy from being destroyed forever.
Sly Cooper Thieves in Time for PS3 is a cross buy game. If a customer buys the PS3 version, they will get a code to download the digital version of the PS VITA game.