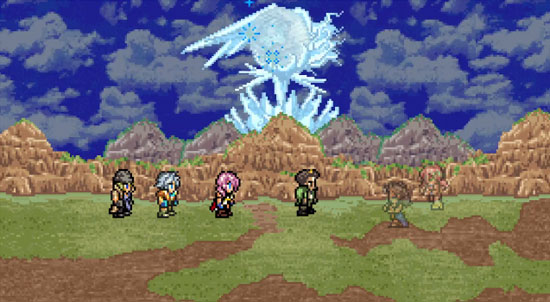 While we're excited to see what Square Enix has cooked up in Lightning Returns: Final Fantasy XIII, the amusing little 16-bit style "retro-spective" trailer they released today makes us wish such a version was actually in development.
Just check it out.
LIGHTNING RETURNS: FINAL FANTASY XIII — Retro-spective trailer:

The scope of FINAL FANTASY XIII's mythology is so massive it could only be fully told across three games, and the saga will finally reach its conclusion on February 11, 2014. Join us as we look back on the stories of FINAL FANTASY XIII and FINAL FANTASY XIII-2 that shaped Lightning into the heroine she is today, as she and a band of unlikely heroes came together to save the world.
Lightning Returns: Final Fantasy XIII is scheduled for a February 11th release.
---
The world of Gran Pulse is sinking into the sea and what remains is now called Nova Chrysalia. With only thirteen days remaining until the end of the world, Chaos reigns in a world that never ages. New life cannot be born. People need salvation. As Lightning, it is your mission to save as many souls as possible so that they may be brought to the new world. Along the journey, you will encounter familiar faces and engage new foes in all new lands. You must ultimately choose which souls to save and which to abandon and fully understand Lightning's true destiny. It all ends here.