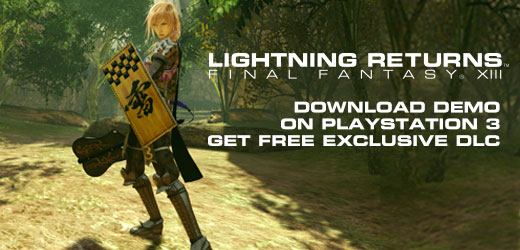 The Lightning Returns: Final Fantasy XIII demo is live today for both the PS3 and Xbox 360, so if you're on the fence about Lightning's latest adventure, here's your chance to check it out.
If you do decide to go all in and pick up a PS3 copy of the game, those who checked out the PSN demo will automatically receive the Utsusemi Garb DLC pack. So not a bad little bonus.
Read on for additional details for the demo below.
Square Enix Inc., the publisher of SQUARE ENIX interactive entertainment products in Americas, today announced that a playable demo for LIGHTNING RETURNS: FINAL FANTASY  XIII is now available for download on the Xbox 360 games and entertainment system from Microsoft* and available later today for the PlayStation 3 system.

As a special bonus, players who download the PlayStation Network demo will automatically receive the Utsusemi Garb DLC, which includes the Heavenly Fan weapon and the Kaminari (meaning "Lightning" in Japanese) shield item. The DLC pack will download with the demo and will be unlocked in the full retail game on February 11. The DLC pack will also be available to purchase for other customers later this year.

The demo puts players in control of Lightning as she traverses the chaos-infested Yusnaan palace of her old ally, Snow. Players will experience Lightning's new customization options and master the game's completely overhauled battle system. For those who activate the Outerworld services and submit their battle scores of the final fight against Zaltys, the 'Siegfried' outfit will be unlocked in the full retail game.

The demo can be downloaded through the following links:

*Xbox 360 demo will be available on January 21 for Xbox Live Gold members and on January 28 for Xbox Live Silver members.
---
The world of Gran Pulse is sinking into the sea and what remains is now called Nova Chrysalia. With only thirteen days remaining until the end of the world, Chaos reigns in a world that never ages. New life cannot be born. People need salvation. As Lightning, it is your mission to save as many souls as possible so that they may be brought to the new world. Along the journey, you will encounter familiar faces and engage new foes in all new lands. You must ultimately choose which souls to save and which to abandon and fully understand Lightning's true destiny. It all ends here.