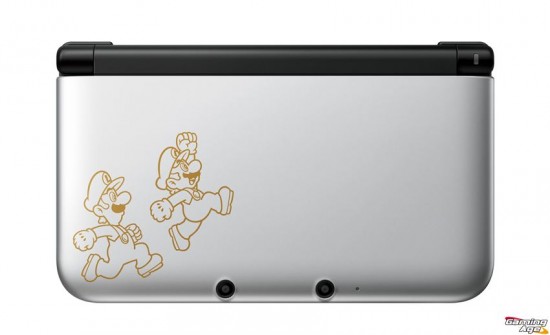 Nintendo has yet another Nintendo 3DS bundle scheduled to launch for this Holiday season, and if you're a Mario and Luigi fan, this 3DS XL bundle may be for you.
Available beginning today for a limited time, the bundle includes a silver Nintendo 3DS XL with Mario and Luigi line art and a pre-installed copy of Mario & Luigi: Dream Team for $199.99. Not bad if you've been holding out for another unique colored 3DS to go along with your gold Zelda 3DS.
Check out the details below.
 Mario & Luigi Nintendo 3DS XL bundle:

The Year of Luigi continues into the holiday shopping season. Starting today on the "Cyber Monday of Luigi," a limited-edition, silver-colored Nintendo 3DS XL system featuring a fun image of Luigi running with his brother Mario is now available for purchase. The sleek system comes pre-installed with the Mario & Luigi: Dream Team game at a suggested retail price of $199.99.

This new Nintendo 3DS XL system is just one of several Nintendo bundles recently announced. Other bundles include a Cobalt Blue Nintendo 3DS system that comes with the Luigi's Mansion: Dark Moon game pre-installed at a suggested retail price of $169.99, as well as a gold-and-black Nintendo 3DS XL system that comes with a download code for a digital version of The Legend of Zelda: A Link Between Worlds for a suggested retail price of $219.99.

Mario & Luigi: Dream Team is the well-received fourth game in the fan-favorite Mario & Luigi role-playing series. In the game, players journey into the imaginative dreams of Luigi to help save Pi'illo Island from a mysterious villain. Using the touch screen on the Nintendo 3DS system, players can manipulate a sleeping Luigi to make fantastical things happen in the dream world, such as altering the dream world environment and growing Luigi to gargantuan size.

For more information about Nintendo 3DS, visit http://www.nintendo.com/3ds. For more information about Mario & Luigi: Dream Team, visithttp://marioandluigidreamteam.nintendo.com.
---
90% Larger Screen: 4.88-inch stereoscopic screen, compared with a 3.53-inch screen in the regular 3DS console, nearly double the size The lower touch-panel screen will also get a bump to 4.18 inches from 3 inches Longer battery life: Outperforms the original Nintendo 3DS. Estimated battery life is 3.5 to 6.5 hours Bundled with a 4 GB SD card, which is great for downloading content from the Nintendo eShop. Limited edition bundle includes an exclusive Gold/Black Nintendo 3DS XL system with Zelda cover art, a download code for "The Legend of Zelda: A Link Between Worlds" game, an AC adapter, a Nintendo 3DS XL stylus, six AR cards, a 4GB Secure Digital memory card and a Lithium-Ion battery pack.