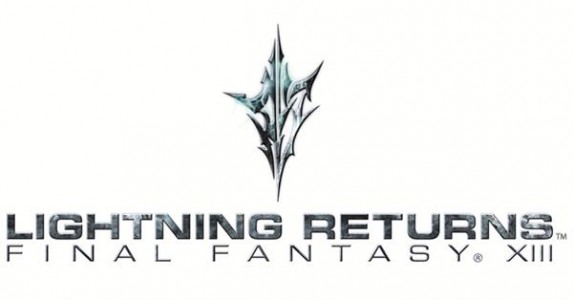 It was inevitable that Square Enix was going to reveal a Collector's Edition for Lightning Returns: Final Fantasy XIII, and this morning they have done exactly that.
There's a catch however… this CE, which includes premium packaging and artwork, a silver (embossed) pocket watch, the Aerith "Flower Girl" outfit DLC and hardcover art book, will only be available at Square Enix's Online Store. So if you're looking to grab a good deal off of Amazon, that's not gonna happen. The Collector's Edition will be available at launch day, on February 11th, 2014 for the Xbox 360 and PS3.
Check out the new trailer showing off the Lightning Returns: Final Fantasy XIII Collector's Edition content along with a product shot and press release below.
Lightning Returns: Final Fantasy XIII Collector's Edition trailer: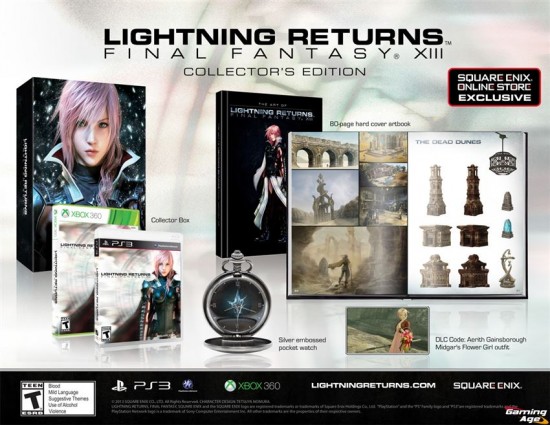 SQUARE ENIX, Inc., the publisher of SQUARE ENIX interactive entertainment products in the Americas, announced today that the collector's edition of LIGHTNING RETURNS: FINAL FANTASY XIII will be available at launch (February 11th, 2014) to buyers exclusively through the Square Enix Online Store.

Enclosed in premium packaging featuring brand-new artwork, the collector's edition includes a silver embossed pocket watch and a downloadable content (DLC) code of Aerith Gainsborough's "Midgar's Flower Girl" outfit, based on the original FINAL FANTASY VII heroine. Art enthusiasts and fans alike will be sure to enjoy an 80-page hardcover artbook with never-before-seen illustrations. Other items include:

Character Designer Tetsuya Nomura's original artwork, including his early sketches of the characters
Foreword by FINAL FANTASY XIII Series Art Director Isamu Kamikokuryo
An introspective look at the worlds and architecture of the Nova Chrysalia world
A FINAL FANTASY nostalgia section that showcases crossover costumes and series' fan favorites moogles and chocobos

This collector's edition is exclusive for North America and may not reflect editions available in other territories.
---
The world of Gran Pulse is sinking into the sea and what remains is now called Nova Chrysalia. With only thirteen days remaining until the end of the world, Chaos reigns in a world that never ages. New life cannot be born. People need salvation. As Lightning, it is your mission to save as many souls as possible so that they may be brought to the new world. Along the journey, you will encounter familiar faces and engage new foes in all new lands. You must ultimately choose which souls to save and which to abandon and fully understand Lightning's true destiny. It all ends here.