Platform: Xbox One
Also on: PS4, PS3, Wii, Wii U, Xbox 360
Publisher: Ubisoft
Developer: Ubisoft Milan
Medium: Blu-ray Disc/Digital
Players: 1-6
Online: Yes
ESRB: E10+ – Everyone 10+
My brother and I used to play sock puppets when we were younger. I'm told that this isn't a normal past-time so I'll explain: we would put on sock puppet shows for our friends. That's it. Most of them involved a husband and wife who would fight about paying the bills and would always end with one each being pummeled in alternating fashion with a twig or something. As we got older, we had more sophisticated fun aping Shakespeare, and eventually exchanged beating with sticks for verbal abuse. At some point there wasn't even an audience anymore and the whole thing became a weird memory from my childhood.
Not that this has anything to do with Just Dance 2014. I just felt like sharing a little about myself.
Then again, if a story about how obnoxious my childhood was is anything to go by, that's coincidentally a good entry point for the new Just Dance thing from Ubisoft. We reviewed it on the Xbox One, which should be the high watermark for motion-controlled dance games in 2013, and presumably the pinnacle of this series' evolution. After all, the new Kinect has a lot to offer in regards to understanding a physical space and interpreting human movement within that confine.
I'm not sure I understand the appeal here. Even from a perspective of dancing in front of a TV in the living room, there's not a lot to be impressed with when it comes to the sloppy choreography that Just Dance seems to hinge on. At least that's what I'm lead to believe, considering how uninspired the tracklist is. Has this series always been like this? Was it ever anything more than just goofing off in front of the Wii back in the day?
I feel like at some point I reviewed the Michael Jackson Just Dance game and figured there wasn't a future for this series, but incredibly, it seems that its reputation for being a party game has superseded the playability or point of putting any more effort into playing the game than the studio seems to have committed when building it. This is doubly confounding when considering that the most sophisticated piece of console hardware available for tracking real-world body movement is available to return some integrity to a dance game.
Maybe having the year in the title isn't helping, but everything about Just Dance 2014 feels like a game rushed to market to meet a console launch and simultaneous multiplatform release. Sure, it has some variety with a fitness thing, but don't we expect that? Maybe we're just supposed to expect that titular Lady Gaga song to be in this game again so that nobody could ever be disappointed over it being left out for reason of fatigue or timeliness. You could lead me to believe that as long as that one song was included, and a group of people were goofing off in some live-action captured footage, that there's not really anything else needed to release a game in this series.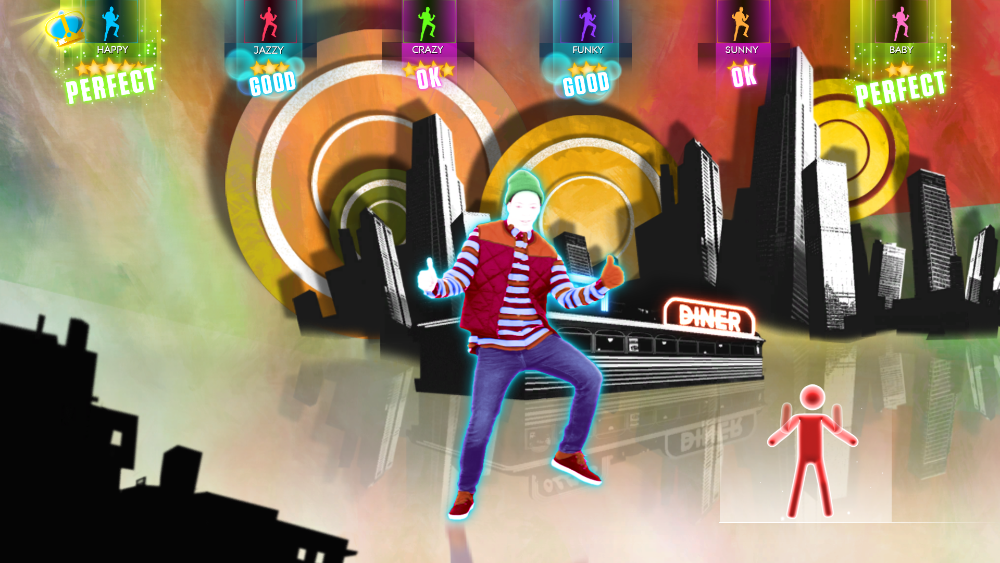 It's almost insulting to the Xbox One that around half of the players' moves are incorrectly read, and maybe some credit can be given to the onscreen shitshow confusing players, but the camera shouldn't be confused by those who are able to keep up with the more standard routines. The game not only cuts a lot of slack in performing areas of complexity that deserve a reward for accurately imitating, but manages to confuse simple moves like waving your arms up and down with probably sitting down or something.  I'm not even sure how reliable the karaoke bonus points thing was at the end of the day– extra points for singing along to the music.
The Just Dance TV feature is interesting if only to serve as a window for the kind of people who were tricked into playing this game, and the other online feature is hardly realized. I think it's the online multiplayer, which they call the World Dance Floor. If the game was more transparent, or at least used a more direct interface, then it might be clear what modes serve what purpose. The World Dance Floor is disappointingly no more than a realtime leaderboard, lacking a visual representation of other players, and with absolutely no sense of interaction outside of being instantly ranked against each other at the end of a section. Try to imagine a racing game where the only online mode was a time trial, and featured no player ghosts, and seemed to jump aimlessly between tracks like some messy best-of mix. Maybe you're into that, though.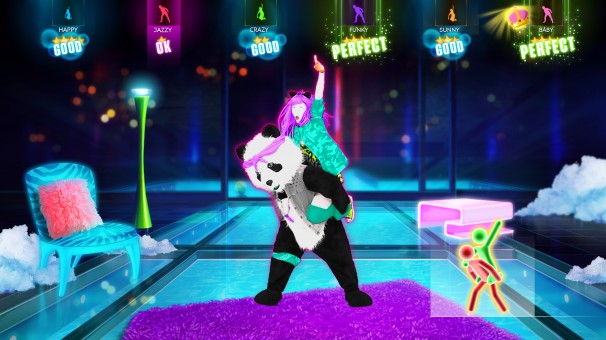 The only good time to be had is in the befuddled laughter at yourself as you bumble between other players in a scrambled attempt to mirror whatever is happening onscreen. Once the song is over, there's no motivation to continue playing, and it's almost implied that this game is meant to be played with as little motor skill as required, by virtue of being a toddler or drunk enough that this seems like a good time. Its virtuous moments are too far and few between, and the technical flaws string it up as a marionette imposter of some other more formidable franchise it wishes it could be.
Tune in for Just Dance 2015 and I'll tell you about the time my dad and I had to drive a state away for a carburetor.
---
"Get Lucky" by Daft Punk ft. Pharrell
view larger
"C'mon" by Ke$ha
view larger
"The Way" by Arianna Grande ft. Mac Miller
view larger
The Party is Back
Just Dance 2014 – the sequel to Just Dance 4, the world's #1 selling dance game – is bringing all new moves with breakthrough features for every motion-control platform and over 40 of the hottest tracks! Dance to current pop hits or celebrate with legendary classics – then take the fun to another level by playing with anyone anywhere in the world, leading back-up dancers, or creating customized Just Sweat experiences. Bring home the ultimate party starter and join in the fun!
The Hottest Songs and Dance Moves
With Just Dance 2014's fresh list of hot tracks, you control the party. Get friends and family moving with "Applause" by Lady Gaga, "Blurred Lines" by Robin Thicke ft. Pharrell, or One Direction's "Kiss You." Celebrate the throwbacks with legendary songs like Gloria Gaynor's "I Will Survive."
New Modes and Features to Start Any Party
Just Dance 2014 takes the fun to another level this year with all new ways to create the best party ever! Own the spotlight and lead back-up dancers with the new On Stage Mode, dance with anyone anywhere in the world with World Dance Floor, work out to customized Just Sweat experiences on any song – and much more!
Key Features
World Dance Floor: Dance with anyone anywhere in the world in Just Dance's first-ever online multiplayer mode! Players join a virtual crew – made up of real-life friends or other Just Dance fans – and compete based on different themes ("Boys Vs Girls", "Crew Vs Crew"). Players can also track their standing on global leader boards, check out fun stats about other players around the world, and see community updates.
On Stage Mode: Own the spotlight in this new mode where one player will dance, lead two back-up dancers, and even sing if they want! As the star of the show, the player can take it seriously and show off how talented they are, or just goof off with friends.
Six-Player Dances: Just Dance is now playable by up to six players at a time on Xbox One. Some specific tracks have unique choreography for each of the six players, making the routine different for everyone playing.
Smartglass Technology: With this Just Dance 2014 next gen feature you'll be able to select your song, navigate through the menu and cover flow, and access the Party Master feature from your tablet.
Just Sweat Mode: Players can personalize their Just Sweat workouts by creating custom playlists and tracking calories. There's also a new option to track calories in all gameplay modes, even outside of the dedicated Just Sweat mode.
Autodance: Autodance is now on all camera-enabled platforms and has received an extensive upgrade! Players can use Autodance to transform their moves into music videos, bring their dances to life after each song, or simply goof off to create hilarious videos. With Autodance, players can instantly share all their favorite moments with friends, family, or the whole world.
Just Dance TV: Browse through friends' dance videos, check out the most recent and popular content, and explore the Featured Video section in upgraded Just Dance TV – the biggest hub of user generated videos ever seen in a party game.
More Dances Per Track: Everyone loves variety! Find alternate choreography across all modes including Just Sweat, Extreme, Battle, and Mash-Up.
Karaoke: Sing along to any song! Lyrics are displayed at the bottom of the screen, and players are given bonus points for singing along.
Improved Shop: Never miss another song or update to the game. Now, when players select a song, they'll immediately see any available alternate versions offered in DLC format.
The Best Just Dance Track List Ever
ABBA: Gimme! Gimme! Gimme! (A Man After Midnight)
Ariana Grande Ft. Mac Miller: The Way
Bob Marley: Could you be loved
Bog Bog Orkestar: Isidora
Chris Brown: Fine China
Daddy Yankee: Limbo
Daft Punk Ft. Pharrell Williams: Get Lucky
Dancing Bros.: Moskau
David Guetta ft. Sia: She Wolf (Falling To Pieces)
Disney's Aladdin: Prince Ali
Duck Sauce: It's You
Far East Movement Ft. Cover Drive: Turn Up The Love
Frankie Bostello: The Love Boat
George Michael: Careless Whisper
Gloria Gaynor: I Will Survive
Gwen Stefani Ft. Eve: Rich Girl
Imposs Ft. Konshens: Feel So Right
Ivete Sangalo: Dançando
Jason Derulo: The Other Side
Jessie J Ft. Big Sean: Wild
Katy Perry: I Kissed A Girl
Katy Perry: Roar*
Ke$ha: C'mon
Lady Gaga: Applause
Lady Gaga Ft. Colby O'Donis: Just Dance
Louis Prima: Just A Gigolo
Mick Jackson: Blame It On The Boogie
Mungo Jerry: In The Summertime
Nicki Minaj: Pound The Alarm
Nicki Minaj: Starships
Olly Murs Ft. Flo Rida: Troublemaker
One Direction: Kiss You
Pitbull Ft. Christina Aguilera: Feel This Moment
PSY: Gentleman
Ray Parker Jr.: Ghostbusters
Ricky Martin: Maria
Rihanna: Where Have You Been
Robbie Williams: Candy
Robin Thicke Ft. Pharrell: Blurred Lines
Rutschen Planeten: 99 Luftballons
Sammie: Miss Understood
Sentai Express: Nitro Bot
The Girly Team: Flashdance… What A Feeling
The Sunlight Shakers: Aquarius/Let The Sunshine In
Village People: Y.M.C.A.
will.i.am Ft. Justin Bieber: #thatPOWER
Wisin & Yandel Ft. Jennifer Lopez: Follow The Leader
*Katy Perry's "Roar" is available as a free download on all platforms. Internet connection required.