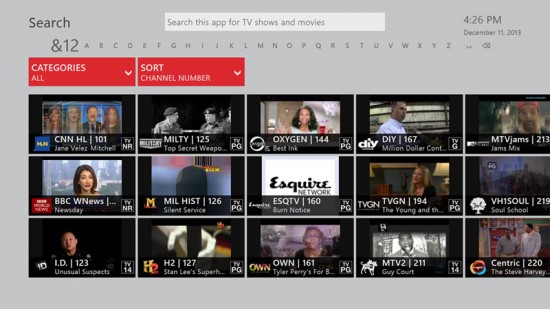 Verizon and Microsoft today announced that the FiOS TV app, which launched for the Xbox 360 some time ago, is now available on the Xbox One.
The app allows FiOS subscribers (who are also Xbox Live Gold subscribers of course) to tap into nearly 80 live channels to stream complete with Kinect gesture and voice integration. This is in addition to the Xbox One's built-in TV guide capabilities.
Read on for the details.
As Christmas nears and people line up to buy the latest tech gadgets and devices, FiOS customers are receiving an early gift: the immediate availability of the FiOS TV app for download on the Xbox One games and entertainment system from Microsoft.

People who are Xbox Live Gold members as well as FiOS TV and Internet service subscribers can watch up to 74 of the most popular live channels through Xbox One by using the free FiOS TV app. No additional hardware is required; and after downloading the app, customers can immediately start using voice and gesture commands to control the TV through Kinect for Xbox One.

"Gaming consoles have evolved into digital entertainment hubs, and partnering with Microsoft breaks down technology barriers and maximizes the value and enjoyment FiOS customers get from FiOS and their Xbox One," said John Wimsatt, Verizon's vice president of product development. "This is just the latest step we at Verizon are taking to deliver on the vision we have for our customers — anything they want, on any device, anytime, anywhere."

In a revolutionary development for the living room, Xbox One brings together TV channels and entertainment apps into one seamless interface. Customers can create their own personal favorites through the Xbox One electronic program guide, called OneGuide, or pin their favorite apps and content to the home screen. For easy navigation, users can search for TV, movies, games or music scans across all apps to find exactly what they're looking for — without having to hunt through each app individually or to juggle multiple screens across cable TV, video streaming services and other entertainment apps.
---
Get more with Xbox One.
Introducing Xbox One. Where the best games, multiplayer, and your favorite movies, music, sports, and live TV come together in one place. Xbox One games look and feel incredibly real, with cinematic gameplay that rivals Hollywood. Watch TV or chat with friends on Skype while you play, and keep on playing while smarter matchmaking happens behind the scenes. With Xbox One, you can snap two things side-by-side on your TV, and switch from one to another instantly. Cloud-powered and built for the digital age, Xbox One is designed to keep getting better over time.*
Xbox One delivers an all-new gaming and entertainment experience that will transform how you play. Xbox One brings together the best games, the most reliable service and rich entertainment all-in-one system that is built for today and tomorrow.
The best games.
The most award-winning exclusive games at E3.
Get it first - all Call of Duty: Ghosts downloadable content and many more.
Adaptive AI that learns to play like you.
The best multiplayer and service.
Better matchmaking with Smart Match.
No jerks - reputation system helps keep annoying players out of your games.
No waiting in lobbies - play, watch TV, or surf the web while matchmaking happens.
Games plus entertainment.
Never miss a moment - get multiplayer alerts while you watch TV.
Switch instantly from a game to TV, a movie, music and more.
Snap an app next to a game and do two things at once.
Built for the future.
The Digital System - built for the digital age using the latest technology and the power of the cloud.
Keeps getting better - "cloud powered" means Xbox One and games grow with you over time.
Advanced voice and motion control open up new game experiences like never before.
Get the facts.
Play Xbox One games online or offline.
Your Xbox One does not need to be connected for you to enjoy offline features of games. In fact, you can take the Xbox One anywhere and play any disc-based Xbox One game on it. The only times you need an online connection are for initial set-up of Xbox One, and to get the latest system and title updates before you start playing some games.
Share, trade-in, resell, gift, & rent game discs to your heart's content.
Use Xbox One's disc-based games just like you do today. There are no limitations to using and sharing them: it works like it does today on Xbox 360. If you'd rather get your games digitally, you can purchase from Xbox Live and get instant access to playing.
Play anywhere with your own Xbox Live Gold account.
A single Xbox Live Gold membership works across both Xbox One and Xbox 360 – your membership covers both. And you can log into a friend's Xbox One and access all your downloadable games, preferences, and apps.
You control your privacy.
You decide how personalized Xbox One is to you and your family, including privacy settings, manual or automatic sign-in, and how data is used. And when you play games or enjoy apps that use sensitive personal data, such as videos, photos, and facial expressions, no one except you can access it, without your express permission.
Kinect or Controller: There are a variety of ways to interact with Xbox One.
Depending on the game or app, you can control Xbox One using voice commands and gestures, a controller, a remote control or your Xbox One SmartGlass device. It is designed to interact with you in multiple ways.
Easily turn Xbox One and Kinect on or off.
To turn off your Xbox One, just say "Xbox Off." This puts Xbox One into standby mode where it's only listening for the voice command, "Xbox On." You can also turn off your Kinect through the system settings, or you can simply unplug it. Xbox One does not require a Kinect to be plugged in for the system to function.
Your Gamertag and Gamerscore follow you to Xbox One.
No need to worry: you can bring your Xbox Live Gamertag and Gamerscore with you to Xbox One. Your Gamerscore will be automatically updated once you have connected to Xbox Live.
Communicate with Xbox Live Gold friends using messaging or Skype.
With Xbox One and an Xbox Live Gold membership, you can use Skype to voice chat with any platform that supports it. If Skype isn't supported (like on the Xbox 360), you'll still be able to see which of your friends is online and message them.
Your NFL on Xbox One.
With Xbox One, step into the huddle and experience the NFL in an all-new light—where you are at the center of your NFL world. With the NFL on Xbox One, stay connected to all the latest NFL news, video highlights and stories around-the-clock, and keep tabs on live stats and scores from around the league. Personalize your experience to follow all the latest from your favorite team, and with built-in NFL.com Fantasy Football you can even keep tabs on your Fantasy points in real-time while watching live TV broadcast games.**
All your NFL, all the time.
The NFL on Xbox One brings together the best of NFL.com, NFL Fantasy, and NFL Network all together on your TV in an integrated way. Get all the latest news from around the League, customize your highlights based on your favorite team, and track real-time scores and stats on Sunday.**
Fantasy Football on your TV.
NFL Fantasy Football comes to life on your TV with Xbox One, allowing you to manage your team and track your League in your living room like never before. Built-in NFL.com Fantasy allows you to set your lineup, watch highlights from your players or prospects, and even receive real-time scoring updates as you track your games on Sunday. Snap your Fantasy next to live TV or gaming and never miss a scoring update again.**
Personalized for your favorite team.
Personalize the My Team channel so that it follows all the stories, video highlights, stats, standings, and news from just your favorite team and its players. Watch all the highlights from over the weekend, or get ready for next week's game with tailored news segments and a curated Twitter feed. It's the best of your NFL team, all in one place on your TV.**
What's in the Box
Xbox One Console
Kinect Sensor for Xbox One
Wireless Controller
Chat Headset
HDMI cable
Power Supply
* Advanced TV hardware required. Games, add-ons and media content sold separately. Initial set-up and some games and features require broadband internet; ISP fees apply. Online multiplayer, Skype and some features also require Xbox Live Gold membership (sold separately) and/or additional requirements. See xbox.com/xboxone.
** The NFL on Xbox One, including NFL.com Fantasy Football, requires advanced TV hardware, broadband internet, and Xbox Live Gold membership (sold separately). To view NFL Network content users must have a television service provider that carries the NFL Network channel. Additional requirements may apply for some features. See xbox.com/live.