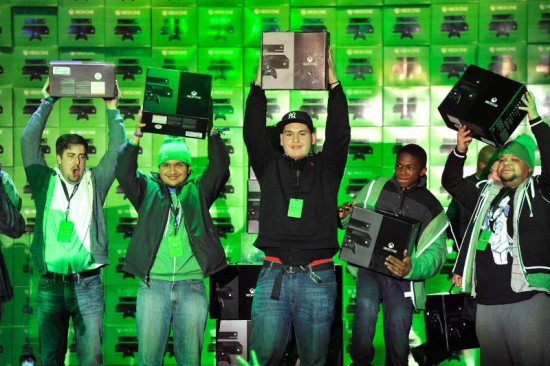 The first big step in Microsoft's quest to own your living room begins today.
To make it official, here's Microsoft's press release.
Xbox One hits store shelves and becomes available online Friday, delighting millions of fans participating in global launch celebrations, watching a live broadcast on Spike TV and lining up at retail stores to be among the first to grab an Xbox One. The hotly anticipated, new-generation games and entertainment system from Microsoft Corp. brings the best games, live TV, Skype, sports, fitness, music and more to one single device at the center of the living room, all available at the command of your voice, powered by Kinect and Bing.* Xbox One is available now in 13 markets worldwide, including the U.S., Canada, Mexico, Brazil, Australia, New Zealand, the U.K., France, Germany, Spain, Italy, Ireland and Austria.

An epic night around the world

From New Zealand to Los Angeles, fan excitement reached a fever pitch around the world. In New Zealand, fans partied at Shed 10 in Auckland as the iconic Sky Tower pulsed green, and one fan made the world's first official Xbox One purchase. Across the world in London, Xbox One turned entertainment epicenter Leicester Square into Xbox One Square with a glowing, green nexus and fan festivities throughout the day. In New York, zombies, Roman soldiers and jaw-dropping supercars converged on Times Square. As billboards glowed green, Macklemore and Ryan Lewis helped 1,000 fans count down to midnight with an electrifying performance at Best Buy Theater, while thousands more celebrated in Times Square. Across the country in Los Angeles, Hollywood's biggest gamers walked the green carpet and mingled with fans who came out to try Xbox One games and enjoy beats courtesy of deadmau5. Similar spectacular celebrations also occurred in the other Xbox One launch markets.

"We have the best community of gamers around the world, and this was on full display last night," said Marc Whitten, chief product officer, Xbox. "The launch of Xbox One is truly Day One. Today is the beginning of the future of entertainment, and we could not be more proud to deliver Xbox One to fans around the world."

All-in-one games and entertainment system

Xbox One brings together the best games, the best multiplayer experiences through Xbox Live and the hottest entertainment offerings in a system built to deliver best-in-class experiences for the future, today and every day after. The new-generation Kinect offers improved voice and motion control, seamlessly responding to your commands and gestures and making new gaming experiences possible.

Xbox One also brings you the best, exclusive games lineup that won 111 awards at E3, the top industry trade show, including "Forza Motorsport 5," "Dead Rising 3," "Ryse: Son of Rome," "Killer Instinct" and "Zoo Tycoon." In addition, popular third-party blockbusters will be available on Xbox One with early exclusivity for downloadable content in "Call of Duty®: Ghosts," "FIFA 14," "Battlefield 4" and more. Expect more huge launches as well, with the release of next-generation experiences, such as "Titanfall," "Project Spark" and "Sunset Overdrive" in 2014. For more on Xbox One launch titles, visit http://www.microsoft.com/en-us/news/press/2013/nov13/11-21XboxOneLaunchGamesPR.aspx.

Thanks to the power of the cloud in more than 300,000 servers, Xbox Live on Xbox One makes gamers better. The multiplayer experience has evolved to include features such as Smart Match, which finds the perfect match for you and is supported by a new community-powered reputation system. Starting with "Xbox Record That," you can also record, edit and share your favorite gaming moments like never before through Game DVR and Upload Studio.* All these new features mean you get more value for your Xbox Live Gold Membership, which seamlessly transfers over from Xbox 360. Xbox Live remains the place where all your friends play, with more than a decade of high-quality service and 48 million members on Xbox 360 — and they're all invited to jump into new experiences on Xbox One.

"We believe a truly next-generation system must deliver not only incredible games but also all of the entertainment you love in one device," said Yusuf Mehdi, corporate vice president of Marketing, Strategy and Business, Xbox. "From your favorite games, to the hottest TV shows, movies and music, to surfing the Web, to Skype conversations with your family and friends, only on Xbox One can you instantly switch between all of your entertainment and snap them together — all with the sound of your voice."

Xbox One's innovative architecture means you no longer have to choose between your games and entertainment. Get multiplayer alerts while you watch TV, and keep watching TV while you play. Snap your NFL fantasy football stats next to the game. Jump instantly from a game to TV, movies, fitness, music, sports, the Internet and Skype video chat with the sound of your voice. With Xbox One, you never have to stop playing to talk to a friend, surf the Web or watch live TV. You also have access to a new generation of TV experiences, and starting in the U.S. and coming to many markets soon, OneGuide will allow you to access your favorite shows, channels, apps or games with the Bing natural language voice search.

Xbox One sells for $499.99 (ERP) in the U.S., and quantities are limited. For the latest on Xbox One availability in your market, visit Xbox.com.
---
Get more with Xbox One.
Introducing Xbox One. Where the best games, multiplayer, and your favorite movies, music, sports and live TV come together in one place. Xbox One games look and feel incredibly real, with cinematic gameplay that rivals Hollywood. Watch TV or chat with friends on Skype while you play, and keep on playing while smarter matchmaking happens behind the scenes. With Xbox One, you can snap two things side-by-side on your TV, and switch from one to another instantly. Cloud-powered and built for the digital age, Xbox One is designed to keep getting better over time.*
Xbox One delivers an all-new gaming and entertainment experience that will transform how you play. Xbox One brings together the best games, the most reliable service and rich entertainment all-in-one system that is built for today and tomorrow.
The best games.
The most award-winning exclusive games at E3.
Get it first - all Call of Duty: Ghosts downloadable content and many more.
Adaptive AI that learns to play like you.
The best multiplayer and service.
Better matchmaking with Smart Match.
No jerks - reputation system helps keep annoying players out of your games.
No waiting in lobbies - play, watch TV, or surf the web while matchmaking happens.
Games plus entertainment.
Never miss a moment - get multiplayer alerts while you watch TV.
Switch instantly from a game to TV, a movie, music and more.
Snap an app next to a game and do two things at once.
Built for the future.
The Digital System - built for the digital age using the latest technology and the power of the cloud.
Keeps getting better - "cloud powered" means Xbox One and games grow with you over time.
Advanced voice and motion control open up new game experiences like never before.
Get the facts.
Play Xbox One games online or offline.
Your Xbox One does not need to be connected for you to enjoy offline features of games. In fact, you can take the Xbox One anywhere and play any disc-based Xbox One game on it. The only times you need an online connection are for initial set-up of Xbox One, and to get the latest system and title updates before you start playing some games.
Share, trade-in, resell, gift, & rent game discs to your heart's content.
Use Xbox One's disc-based games just like you do today. There are no limitations to using and sharing them: it works like it does today on Xbox 360. If you'd rather get your games digitally, you can purchase from Xbox Live and get instant access to playing.
Play anywhere with your own Xbox Live Gold account.
A single Xbox Live Gold membership works across both Xbox One and Xbox 360 – your membership covers both. And you can log into a friend's Xbox One and access all your downloadable games, preferences, and apps.
You control your privacy.
You decide how personalized Xbox One is to you and your family, including privacy settings, manual or automatic sign-in, and how data is used. And when you play games or enjoy apps that use sensitive personal data, such as videos, photos, and facial expressions, no one except you can access it, without your express permission.
Kinect or Controller: There are a variety of ways to interact with Xbox One.
Depending on the game or app, you can control Xbox One using voice commands and gestures, a controller, a remote control or your Xbox One SmartGlass device. It is designed to interact with you in multiple ways.
Easily turn Xbox One and Kinect on or off.
To turn off your Xbox One, just say "Xbox Off." This puts Xbox One into standby mode where it's only listening for the voice command, "Xbox On." You can also turn off your Kinect through the system settings, or you can simply unplug it. Xbox One does not require a Kinect to be plugged in for the system to function.
Your Gamertag and Gamerscore follow you to Xbox One.
No need to worry: you can bring your Xbox Live Gamertag and Gamerscore with you to Xbox One. Your Gamerscore will be automatically updated once you have connected to Xbox Live.
Communicate with Xbox Live Gold friends using messaging or Skype.
With Xbox One and an Xbox Live Gold membership, you can use Skype to voice chat with any platform that supports it. If Skype isn't supported (like on the Xbox 360), you'll still be able to see which of your friends is online and message them.
What's in the Box
Xbox One Console
Kinect Sensor for Xbox One
Wireless Controller
Chat Headset
HDMI cable
Power Supply
* Advanced TV hardware required. Games, add-ons and media content sold separately. Initial set-up and some games and features require broadband internet; ISP fees apply. Online multiplayer, Skype and some features also require Xbox Live Gold membership (sold separately) and/or additional requirements. See xbox.com/xboxone.