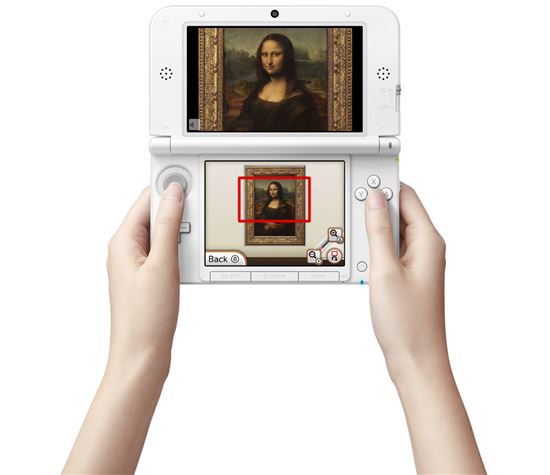 Nintendo is getting all artsy on us with the upcoming release of the Nintendo 3DS Guide: Louvre app on the eShop.
This virtual recreation of Paris' famed Louvre museum is coming to the eShop on December 2nd for $19.99 and features over 600 images of artwork, more than 400 3D photos along with 30 hours of audio commentary. Not bad if you have never visited Paris or just want to brush up on your art history.
Read on for the announcement and take a look at a pair of screens and a video tour from the Nintendo Direct event.
Nintendo 3DS Guide: Louvre screens:

Nintendo 3DS Guide: Louvre trailer:

Nintendo has come up with some Nintendo 3DS software artistic enough to make even a 16th-century icon smile. For more than a year, visitors to the world-famous Louvre museum in Paris have been able to rent Nintendo 3DS systems loaded with software that serves as an interactive museum guide. Now Nintendo is making this software available to Nintendo 3DS owners everywhere. Owners with a broadband Internet connection can visit the Nintendo eShop beginning Dec. 2 and download the Nintendo 3DS Guide: Louvre software for $19.99.

Nintendo announced the availability of the software during a Nintendo Direct announcement today. To view the full Nintendo Direct video, visit http://www.nintendo.com/nintendo-direct.

The software contains more than 600 images of artwork from the famed French museum, in addition to more than 400 3D photos of the museum's interior and nearly 30 hours of audio commentary. Users can zoom in and view select paintings up close, or take a three-dimensional look at famous sculptures like the Venus de Milo.

The software available in the Nintendo eShop has features not found in the Louvre version, including an artwork slide show and a mode that lets users select and admire particular works of art while the audio commentary plays. Nintendo 3DS Guide: Louvre will also receive updates when a new display is added, in order to stay on top of all the latest exhibitions in the actual Louvre. To access the updated content, users just connect to the Internet and select "Update Guide."

A 3D video featuring the famed Venus de Milo sculpture can be viewed from the Nintendo eShop starting today, giving a taste of what Nintendo 3DS Guide: Louvre has to offer. The software is a great way to take a virtual tour of one of the world's most renowned museums, or it can be used as a planning tool, and during visits to the museum, for people who are inspired to take a trip to Paris to see the real thing.
---
Play games in 3D without the need
for special glasses
view larger
Nintendo 3DS
Nintendo 3DS combines all the functionality of 3DS XL at an even more affordable price. Play 3DS and DS games, take 3D photos, and connect with friends with StreetPass and SpotPass.
Nintendo 3DS includes two screens. The bottom touch screen makes use of a telescoping stylus that is stored in the unit itself. The top screen displays 3D visuals to the naked eye. Looking at the screen is like peering through a window into a world where characters and objects have true depth. The system also has a 3D Depth Slider that lets players select the level of 3D they enjoy the most. The 3D effect can be ratcheted up to the highest level, scaled back to a more moderate setting or even turned off completely, depending on the preference of the user.
3D Screen
The Nintendo 3DS system opens up a whole new world of eye-popping gameplay possibilities. The stereoscopic 3D display of the upper screen gives objects within the game world a feeling of space and depth that extends far into the back of the screen. It becomes easier to see the position of characters and obstacles in the world, making many game experiences even more intuitive for all types of players.
Play 3DS and DS games, take 3D photos, and connect with friends view larger
3D Depth Slider
A built-in 3D Depth Slider allows you to immediately adjust the intensity of the 3D settings on the Nintendo 3DS system to your liking. The 3D effect can also be turned down completely – all Nintendo 3DS games and applications can be played in 2D, and look better than any Nintendo handheld before it.
Motion Sensor and Gyro Sensor
Portable play control reaches a new level with these amazing features, allowing for new and unique gameplay mechanics. A built-in motion sensor and gyro sensor can react to the motion and tilt of the system, so whether players are twisting their systems side to side or moving them up and down, their motion-compatible Nintendo 3DS games respond instantly.
3D Camera
The Nintendo 3DS system uses its two outer cameras to see the world in 3D, much like the human eye. This allows for the creation of 3D photos, 3D video, and even 3D stop-motion animations, that make for an eye-popping addition to your next photo op.
Stay connected with StreetPass and SpotPass, even when in Sleep Mode
view larger
StreetPass
Social and wired like no Nintendo system before it, Nintendo 3DS brings fellow players together in exciting new ways with StreetPass communication. Set your Nintendo 3DS to Sleep Mode and carry it with you wherever you go to exchange game data like Mii characters, high scores, and custom characters with other users you pass on the street. You control what data you exchange, and you can exchange data for multiple games at once, making virtual connections with real-world people you encounter in your daily life.
SpotPass
Your Nintendo 3DS system can automatically connect to a wireless Internet access point. Once connected, special items will download automatically to your system via the SpotPass feature, even while in sleep mode. Some of these surprise items include exclusive content and promotions from Nintendo Zone, unique 3D videos from the Nintendo Video service, and add-on game content from your favorite Nintendo 3DS games.
Key Features
3D upper screen with 3D Depth Slider, lower touch screen
New input and controls: Circle Pad, gyro sensor, motion sensor, and pedometer
Cameras: One inward-facing, dual outward-facing
Wireless switch
Augmented Reality (AR) games and built-in applications
What's in the Box
Nintendo 3DS
Charging cradle
AC adapter
Nintendo 3DS stylus
Six AR Cards for use with augmented reality games
2 GB SD Card for storing photos, music, and downloadable content.