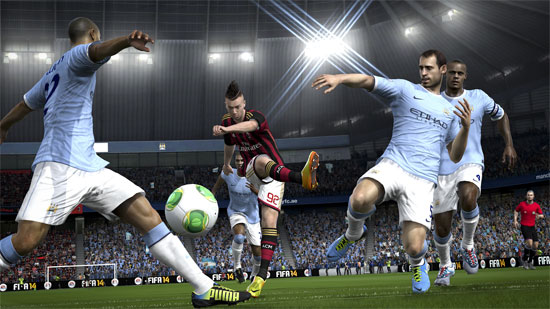 All of EA Sports' other next generation launch titles got new gameplay trailers this week, so why not FIFA 14?
Well for those looking forward to getting down and dirty with a soccer game for their PS4 and/or Xbox One, here ya go.
FIFA 14 is Alive | Official Gameplay Trailer | Xbox One & PS4:

FIFA 14 will hit both systems at launch next month.
---
Step onto the field and immerse yourself in the excitement of next-gen action with Fifa 14 for the PS4. EA Sports' new Ignite Engine places you right in the heart of real-world stadiums, with dynamic 3D crowds that organically react to live game situations. With Pro Instincts, players on the field change their actions according to the environment, using improved artificial intelligence to anticipate and counter your every move. The new Elite Technique feature improves on gameplay mechanics with more player movement and skills. Trap the ball using all parts of your body and attack the net with natural off-balance shots. Or plant, pivot, and shoot your way to glory by channeling your inner Messi to take on all challengers!