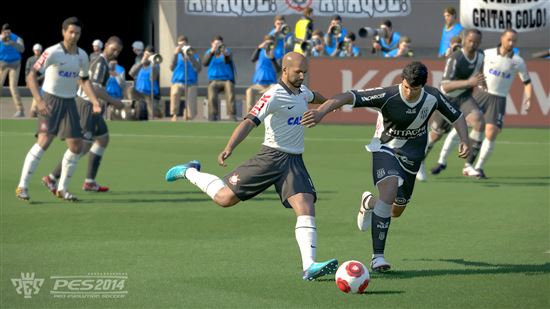 If you're not feeling FIFA 14 this year for whatever reason, there will be an alternative soccer game worth checking out in the near future. Konami has released a PS3 and Xbox 360 demo for Pro Evolution Soccer 2014 in advance of the game's September 24th release.
It's a good opportunity for those looking to compare it to EA Sports' latest release and take the game out for a spin. The game is running on Kojima Productions' FOX Engine, so it may be worth downloading just to check that out.
Announcement with more details below.
Konami Digital Entertainment, Inc. today announced the free playable demo for Pro Evolution Soccer 2014 is available for download, starting today on Xbox 360 via Xbox LIVE and for PlayStation 3 via PlayStation Network.

PES 2014 marks major advancements for the popular soccer game, with the inclusion of Konami's proprietary developed by Kojima Productions, FOX Engine in their overhauled soccer-specific production system. Utilizing this new technology allowed the PES Production team to focus on recreating many of the tangible skills of your favorite players and teams, such as ball movements (TrueBall Tech), and sophisticated AI (TeamPlay). Fans will also see personalized animations and celebrations (PES ID) to bring their highlights to life. Finally, the Heart system will bring intangible elements, such as stadium crowds and player energy in to the game dynamic. This will play a larger impact on the momentum of the match, allowing anything to happen over the course of a match.

The first demo allows users to experience these key additions first hand with match play modes. The demo features eleven fully licensed teams, including Bayern Munich, Manchester United, Germany and Italy from the European region, while Santos FC (BRZ), Boca Juniors (ARG), Colo Colo and four other teams are available in the South American region.

In order to experience the full range of controls PES 2014 offers, the demo allows any difficulty setting to be used, and boasts localized language settings. The users may also enjoy a part of the tutorial to learn the basics of the overhauled controls.

PES 2014 is rated 'E' for Everyone by the ESRB and will be available in retail stores nationwide beginning September 24th. The demo for PES 2014 is available now through XBOX Live Arcade and PlayStation Network.
---
Pro Evolution Soccer 2014 title will mark a new beginning for the popular series, with an all-new engine allowing for the most comprehensive advance for the Pro Evolution Soccer series since its inception. The new engine has been in development for a number of years and uses Kojima Production's renowned FOX Engine at its core, extended and enhanced to match the bespoke and complex demands of a football title. Based on six gameplay tenants, the new system allows every aspect of Pro Evolution Soccer 2014 to be totally reworked. Throwing off previous limitations imposed by dated animation systems and AI elements, the engine has enabled the PES Productions team to produce a game much closer to the excitement and variety of a top-level match. The central theme of fluidity is based on the constant moving of players and switching positions which mirrors the modern approach to football. Producers looked at how the matches ebb and flow, with player individuality key to a team's success, and well-drilled tactics helping underdogs produce giant-killing feats. Working from the ground up, the team has reworked every element of play, creating a fresh and energetic new standard for football titles. In addition to noticeably improved graphics and seamless animation, the thrust of the new engine's power has been used to redefine the way football is played on a gaming console. Gone are the limitations imposed by dated animation systems and AI elements, and instead PES 2014 boasts a central core that perfectly mimics the skill and awareness that elevates the world's greatest players above their peers. The game has is English, Spanish and French language option.