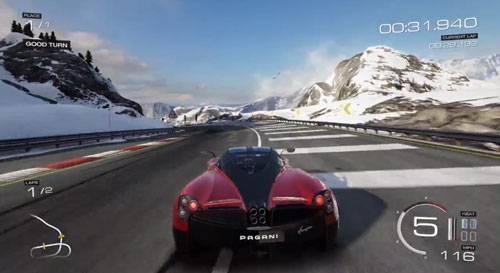 There's been an unfortunate lack of direct feed video of next generation launch games out there, so it's always appreciated when we get a high quality look at the impressive new visuals that the new hardware can crank out.
So today, Microsoft released a new Forza Motorsport 5 direct feed gameplay video which shows off a very polish and slick-looking racing experience. The footage suffers from some YouTube compression, but it's better than nothing.
Check it out.
Forza Motorsport 5: Direct Feed Gameplay | Bernese Alps:

This is the first ever direct-feed gameplay footage of the Xbox One exclusive Forza Motorsport 5. The footage features the 2012 Pagani Huayra racing in the snowy elevations of the Bernese Alps circuit.

The Bernese Alps circuit debuted in Forza Motorsport 4 and has been completely rebuilt for Xbox One, showcasing the new graphics engine running at a gorgeous 1080p resolution and 60 frames per second.
---
Reserve your Day One Edition today.*
Forza Motorsport 5 Day One Car Pack This three-car pack features amazing cars from Lamborghini, Audi, and Ford; each with a Day One-themed livery and custom tuning package created by the experts at Turn 10:
•2010 Audi TT RS Coupe: Stuffed stem to stern with modern tech, the TT RS is the first TT model to carry Audi's famed RS badge – a distinction that's earned on the track from the moment you step on the gas.
•2013 Ford Focus ST: Debuting with the same 247-hp 2.0-liter turbocharged EcoBoost engine from the much larger Ford Explorer SUV, the new Ford Focus ST packs a serious punch
•2011 Lamborghini Gallardo LP570-4 Superleggera: Like great sculpture, the Superleggera's chiseled form is carefully considered for maximum impact. That's where the similarities end, however, because this work of art is best appreciated when it's moving at top speed.
Where dreams are driven.
Forza Motorsport 5 is a cinematic automotive journey starring the world's greatest cars and tracks. Built from the ground up to take advantage of Xbox One and the vast power of the cloud, no game better delivers the wide-eyed thrill of racing.
 • Never Race Alone– By learning how you and your friends drive, the power of the cloud delivers real human behavior. Drivatar technology creates an ever-evolving network of opponents who are always ready to race. Real tendencies, real mistakes, real victories.
 • Unprecedented Visual Realism– A new graphics engine recreates thousands of physically-based materials at a level of precision never before possible; the play of light on a perfect coat of paint, the texture of handstitched leather and brushed metal, the history written onto scratched rotors and worn concrete. A world of speed, beauty and danger real enough to touch.
 • Your Ultimate Car Fantasy– Own and race the cars of your dreams. From purpose-built race cars to classic sports cars to modern tuners, every car features a customized career true to its heritage.
 • Fast and Fair Multiplayer– With Smart Match™ matchmaking and Xbox Live dedicated servers, experience epic, fast and competitive multiplayer perfectly suited to your skill and style.
* Available in limited quantities at select retailers while supplies last.
NOTE: You are reserving Forza Motorsport 5, for use only with Xbox One; both expected to be released in November 2013. Game for activation and distribution only in Canada, Mexico and the United States. You must accept Xbox Terms of Use (including standard application license terms). See xbox.com/reserve for additional Xbox One information.