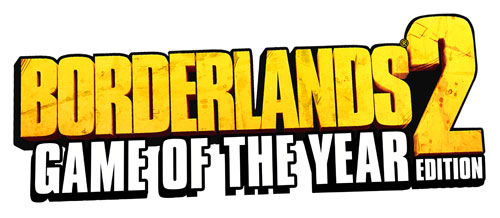 Was there ever a doubt that 2K Games and Gearbox wasn't going to release some sort of Game of the Year edition for Borderlands 2? So this morning they made it official, and revealed what the GoTY edition would include.
Releasing on October 8th for $59.99, the Borderlands 2 Game of the Year Edition features the full game, all of the Season Pass DLC and the extra Premiere Club content.   That's a whole lot of game.
Read on for all the details.
2K and Gearbox Software today announced that the Borderlands 2 Game of the Year Edition will be available on all platforms in North America on October 8, 2013 and internationally on October 11, 2013, in celebration of the success of Borderlands 2. With the Borderlands 2 Season Pass now complete, this is the perfect opportunity to get all of its content as well as the base game, Premiere Club content, and more in one mayhem-filled package.

"For us and for fans, the love for Borderlands 2 has been nothing short of spectacular, so it's natural for us here at Gearbox Software to want everyone else to have a chance to experience the best-selling game and its most valuable expansion content," said Randy Pitchford, President of Gearbox Software. "The Borderlands 2 Game of the Year Edition offers more value than ever before in one package, giving everyone an opportunity to become a legendary Vault Hunter, and join in the award winning mayhem and fun."

With the Borderlands 2 Game of the Year Edition, players can experience every epic boss battle, increase the level for each of the six playable Vault Hunters, play all of the additional campaign content, and enjoy hundreds of hours of shoot-and-loot mayhem at an extraordinary value. The Game of the Year Edition contains over $100 of gameplay content for only $59.99 and specifically includes:

Borderlands 2 Main Game;
Captain Scarlett and her Pirate's Booty;
Mr. Torgue's Campaign of Carnage;
Sir Hammerlock's Big Game Hunt;
Tiny Tina's Assault on Dragon Keep;
Creature Slaughter Dome;
Premiere Club Content:

Gaige, the Mechromancer Character Class;
Gearbox Gun Pack;
Golden Key;
Vault Hunter's Relic;

Krieg, the Psycho Character Class;
Collector's Edition Heads and Skins;
Ultimate Vault Hunter Upgrade Pack 1.

"The success of Borderlands 2 has been tremendous, and the game is on-track to become the highest-selling title in the history of 2K," said Christoph Hartmann, President of 2K. "With the Game of the Year Edition releasing this fall, fans will have the opportunity to get their hands on the most comprehensive Borderlands 2 bundle at an incredible price."
---
Borderlands 2 furthers the distinct blending of First Person Shooter and Role Playing genres to create the true evolution of the Role Playing Shooter. Team up with up to three other players for four-player online goodness or go old-school with two-player split-screen couch sharing mayhem as you spend hours leveling up your character and equipping them with one of the millions of badass weapons. Borderlands 2 features a new visually stunning array of procedurally generated guns, shields, grenades, artifacts, enemies and more. Choose one of the four new character classes to be taken through a carefully crafted and connected story to all new and surprising environments across the living planet of Pandora. Make new friends, arm them to the teeth and fight alongside them on your relentless quest for revenge and redemption.