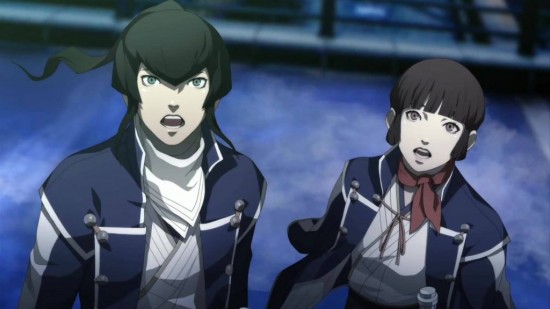 Atlus PR guy John Hardin unveils the contents of the upcoming Limited Edition 1st print run for Shin Megami Tensei IV, hitting the 3DS on July 16th. Watch in eager anticipation as John compares the box to various random objects, sniffs it, and shows off the snazzy strategy guide / design book packed in the box, which contains 176 pages of tips, tricks, and awesome artwork for SMT fans to peruse.
Here's the full video contained below, and expect to hear/see a lot more about Shin Megami Tensei IV from Gaming-Age next week.
---
The Shin Megami Tensei RPG series began in Japan in 1992 on Super Famicom. Neither this game nor its sequel was published in North America. In 2004 Shin Megami Tensei III: Nocturne was the first SMT game in North America, although "III" was removed from the PlayStation 2 title. The SMT series later spun off several sub series, including Persona, Devil Summoner, Devil Survivor, Digital Devil Saga, and the standalone Strange Journey. This new RPG is considered the fourth in the Shin Megami Tensei mainline series. In 1492, the kingdom of East Mikado is protected by high walls, with the castle and its king at the center. A young warrior, 18 years old, has just been chosen to become a Samurai, one who, with the aid of a special tool called a Gauntlet, will serve as a secret protector of the city. It is the duty of the Samurai to exterminate a demon threat of which its citizens are unaware. However, the situation is not as simple as human versus demon; There are factions within the human group that must be discovered and understood in order for alliances to be formed, paths set, and the destiny of the world decided.