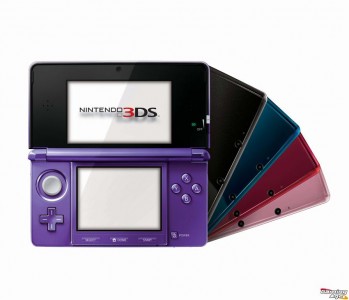 Today marks the 2 year anniversary for the 3DS launch, which debuted March 27th, 2011 in North America. Despite some early struggles with a $249.99 price point that dropped quickly (and drastically) to $169.99 just four months after release, the little handheld that could has really turned the corner in the eyes of most fans and critics.
Now bolstered with a software line-up that includes the new Monster Hunter 3 Ultimate and Luigi's Mansion 2, along with older hits like Super Mario 3D Land, The Legend of Zelda: Ocarina of Time 3D, Final Fantasy: Theatrhythm, and a host of eShop offerings, it's hard to deny that the 3DS is a system that's worth checking out.
The upcoming releases look strong as well, with titles like Animal Crossing: New Leaf dropping later this year, along with Donkey Kong Country Returns 3D coming in May, which are sure to keep fans hyped for the months ahead.
Below is a snippet of info that Nintendo wanted to share with it's fans regarding the success and games line-up for the system, which we've included in it's entirety here.
Nintendo 3DS: Launched March 27, 2011

Nintendo 3DS XL: Launched Aug. 19, 2011

Almost all of the existing library of Nintendo DS games can be played on the Nintendo 3DS systems.

The Nintendo eShop offers access to hundreds of new and classic 2D and 3D games, video content and more.

Over 700 games available or on the way for Nintendo 3DS and 3DS XL since launching March 27, 2011.

Only on Nintendo 3DS

Fan and Critic Favorites:

New Super Mario Bros. 2, Super Mario 3D Land, Mario Kart 7, Paper Mario: Sticker Star, Luigi's Mansion: Dark Moon, Fire Emblem: Awakening, Kid Icarus: Uprising, Professor Layton and the Miracle Mask, The Legend of Zelda: Ocarina of Time 3D

Coming Soon:

Lego City Undercover: The Chase Begins, Animal Crossing: New Leaf, Super Smash Bros., Pokémon X/Pokémon Y

eShop Hits:

Pushmo, Crashmo, Gunman Clive, Mutant Mudds, Fluidity: Spin Cycle, Ketzal's Corridors

Consumers can get a free digital game when they buy the Nintendo 3DS XL system and a qualifying game by April 30, 2013.
---
Nintendo 3DS XL
The Nintendo 3DS XL system combines next-generation portable gaming with eye-popping 3D visuals. Take 3D photos, connect to friends, other players, or wireless hotspots with the wireless StreetPass and SpotPass communication modes. With 90 percent larger screens than the 3DS, 3DS XL is the ultimate 3D entertainment system.
Play 3DS and DS games, take 3D photos,
and connect with friends
Nintendo 3DS XL includes two screens. The bottom touch screen makes use of a stylus that is stored in the unit itself. The top screen displays 3D visuals to the naked eye. Looking at the screen is like peering through a window into a world where characters and objects have true depth. The system also has a 3D Depth Slider that lets players select the level of 3D they enjoy the most. The 3D effect can be ratcheted up to the highest level, scaled back to a more moderate setting or even turned off completely, depending on the preference of the user.
3D Screen
The Nintendo 3DS XL system opens up a whole new world of eye-popping gameplay possibilities. The stereoscopic 3D display of the upper screen gives objects within the game world a feeling of space and depth that extends far into the back of the screen. It becomes easier to see the position of characters and obstacles in the world, making many game experiences even more intuitive for all types of players.
The built-in 3D Depth Slider allows you to immediately adjust the intensity of the 3D effect, or turn it off completely
view larger
3D Depth Slider
A built-in 3D Depth Slider allows you to immediately adjust the intensity of the 3D settings on the Nintendo 3DS XL system to your liking. The 3D effect can also be turned down completely – all Nintendo 3DS games and applications can be played in 2D, and look better than any Nintendo handheld before it.
Motion Sensor and Gyro Sensor
Portable play control reaches a new level with these amazing features, allowing for new and unique gameplay mechanics. A built-in motion sensor and gyro sensor can react to the motion and tilt of the system, so whether players are twisting their systems side to side or moving them up and down, their motion-compatible Nintendo 3DS games respond instantly.
Stay connected with StreetPass and SpotPass, even when the 3DS XL is in Sleep Mode
view larger
3D Camera
The Nintendo 3DS XL system uses its two outer cameras to see the world in 3D, much like the human eye. This allows for the creation of 3D photos, 3D video, and even 3D stop-motion animations, that make for an eye-popping addition to your next photo op.
StreetPass
Social and wired like no Nintendo system before it, Nintendo 3DS XL brings fellow players together in exciting new ways with StreetPass communication. Set your Nintendo 3DS XL to Sleep Mode and carry it with you wherever you go to exchange game data like Mii characters, high scores, and custom characters with other users you pass on the street. You control what data you exchange, and you can exchange data for multiple games at once, making virtual connections with real-world people you encounter in your daily life.
SpotPass
Your Nintendo 3DS XL system can automatically connect to a wireless Internet access point. Once connected, special items will download automatically to your system via the SpotPass feature, even while in sleep mode. Some of these surprise items include exclusive content and promotions from Nintendo Zone, unique 3D videos from the Nintendo Video service, and add-on game content from your favorite Nintendo 3DS games.
Key Features
90 percent larger screens than the Nintendo 3DS
3D upper screen with 3D Depth Slider, lower touch screen
New input and controls: Circle Pad, gyro sensor, motion sensor, and pedometer
Cameras: One inward-facing, dual outward-facing
Wireless switch
Augmented Reality (AR) games and built-in applications
What's in the Box
Nintendo 3DS XL
AC adapter
Nintendo 3DS stylus
Six AR Cards for use with augmented reality games
4 GB SD Card for storing photos, music, and downloadable content.