Square Enix today revealed details for the Tomb Raider Collector's Edition that will be due in limited quantities when the game launches early next year.
The $99.99 CE sounds jam-packed with a variety of bonuses including a Lara Croft figurine by Play Arts, a tin replica packaging a map/poster, a set of iron on patches, a Lithographic print, the game soundtrack and finally the weapons pack DLC.
Take a look at the package below and read on for all the info.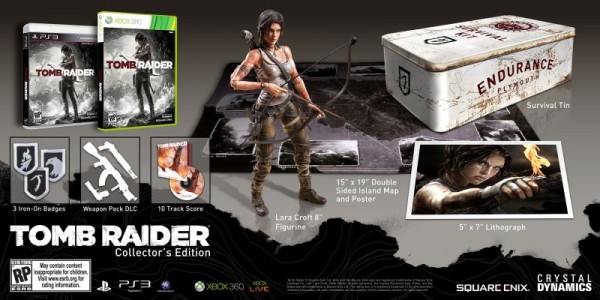 Pre-order the game below.
 Square Enix, Inc., the publisher of SQUARE ENIX interactive entertainment products in the Americas, today announced the TOMB RAIDER Collector's Edition to be made available in limited quantities alongside the game's release on March 5, 2013.

Designed to bring fans closer to Lara Croft's journey within the game, the North American TOMB RAIDER Collector's Edition features premium packaging–a replica survival tin recovered from the ill-fated expedition ship, "Endurance"–and the following:

Play Arts -KAI- Lara Croft figurine – Lara Croft has been beautifully recreated as an 8-inch Play Arts -KAI- action figure. The figure comes with an alternate set of three hands, bow and arrow, shotgun, handgun, and an ice axe.

Double-sided island map and poster – Discover Key Landmarks from the mysterious island of Yamatai, where Lara Croft and her fellow castaways were marooned after the Endurance shipwreck, in this 15" x 19" poster. On the reverse is a poster-size image of the box art that epitomizes Lara's origin story.

Lithographic print – An exclusive 5" x 7" Lara Croft heavy-stock lithograph print with matte frame designed by Crystal Dynamic's Brian Horton, senior art director, and Brenoch Adams, concept artist.

Experience Shields –Three iron-on badges based on the game's experience icons: "Animal Instincts," the "Climbing Axe" and "Fire Arrow."

TOMB RAIDER Original Soundtrack 'Survivalist Cut'- A collection of 10 tracks with over 60 minutes of music from the game.

Weapons Pack Downloadable Content – includes a variety of weapons to help Lara survive against the island's inhabitants.

The TOMB RAIDER Collector's Edition will be available in limited quantities for $99.99 at participating retailers. For more information about the Collector's Edition along with regular updates on all of our pre-order and promotional offers, visit the pre-order hub at www.tombraider.com 
---
After a brutal storm destroys the boat she was travelling on, a frightened young woman is left washed ashore on an unknown beach. On her own but not alone she has only one goal, to survive. Here begins the first adventure for a young and inexperienced Lara Croft in a story which charts the journey of an ordinary woman who finds out just how far she must go in order to stay alive.