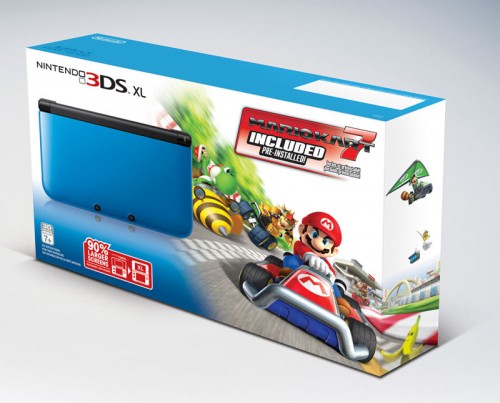 Nintendo is going full force with their Holiday promotions at the moment, and just this morning revealed a new one for those interested in the Nintendo 3DS XL.
Beginning on December 2nd, the company is bundling a pre-installed copy of Mario Kart 7 with the Blue/Black Nintendo 3DS XL for a limited time for only $199.99. It won't be available forever so make sure to pick one up next week if you're interested.
Read on for the announcement.
Mario Kart fans are getting a limited-edition bundle to help keep their engines revving through the holidays. On Dec. 2, Nintendo is offering a Blue/Black Nintendo 3DS XL with Mario Kart 7 pre-installed on the system for a suggested retail price of $199.99. If purchased separately, the system and the game would be offered at suggested retail prices of $199.99 and $39.99 respectively, making this another great Nintendo value for holiday shoppers.

The portable Nintendo 3DS XL system offers two screens that are 90 percent larger than the original Nintendo 3DS and let owners see even more amazing 3D details. Owners can watch their karts zoom across the track in 3D without the need for special glasses. The system also includes the Nintendo eShop, a one-stop shop for downloadable new games, Virtual Console games, free game demos and full downloadable versions of retail games. Users can also enjoy augmented-reality features and Nintendo Video, a channel filled with free one-of-a-kind 3D videos.

Mario Kart 7 lets karts race through the air and under the sea for the first time. On big jumps, karts deploy a wing to help them glide over the track. When karts dive underwater, a propeller pops out to help the kart cruise across the sea floor. Players can customize their vehicles further to enhance their driving style or play to certain types of terrain and even race as their own Mii characters. Multiple courses challenge players to race for the checkered flag.
---
Nintendo 3DS XL
The Nintendo 3DS XL system combines next-generation portable gaming with eye-popping 3D visuals. Take 3D photos, connect to friends, other players, or wireless hotspots with the wireless StreetPass and SpotPass communication modes. With 90 percent larger screens than the 3DS, 3DS XL is the ultimate 3D entertainment system.
Play 3DS and DS games, take 3D photos,
and connect with friends
Nintendo 3DS XL includes two screens. The bottom touch screen makes use of a stylus that is stored in the unit itself. The top screen displays 3D visuals to the naked eye. Looking at the screen is like peering through a window into a world where characters and objects have true depth. The system also has a 3D Depth Slider that lets players select the level of 3D they enjoy the most. The 3D effect can be ratcheted up to the highest level, scaled back to a more moderate setting or even turned off completely, depending on the preference of the user.
3D Screen
The Nintendo 3DS XL system opens up a whole new world of eye-popping gameplay possibilities. The stereoscopic 3D display of the upper screen gives objects within the game world a feeling of space and depth that extends far into the back of the screen. It becomes easier to see the position of characters and obstacles in the world, making many game experiences even more intuitive for all types of players.
The built-in 3D Depth Slider allows you to immediately adjust the intensity of the 3D effect, or turn it off completely
view larger
3D Depth Slider
A built-in 3D Depth Slider allows you to immediately adjust the intensity of the 3D settings on the Nintendo 3DS XL system to your liking. The 3D effect can also be turned down completely – all Nintendo 3DS games and applications can be played in 2D, and look better than any Nintendo handheld before it.
Motion Sensor and Gyro Sensor
Portable play control reaches a new level with these amazing features, allowing for new and unique gameplay mechanics. A built-in motion sensor and gyro sensor can react to the motion and tilt of the system, so whether players are twisting their systems side to side or moving them up and down, their motion-compatible Nintendo 3DS games respond instantly.
Stay connected with StreetPass and SpotPass, even when the 3DS XL is in Sleep Mode
view larger
3D Camera
The Nintendo 3DS XL system uses its two outer cameras to see the world in 3D, much like the human eye. This allows for the creation of 3D photos, 3D video, and even 3D stop-motion animations, that make for an eye-popping addition to your next photo op.
StreetPass
Social and wired like no Nintendo system before it, Nintendo 3DS XL brings fellow players together in exciting new ways with StreetPass communication. Set your Nintendo 3DS XL to Sleep Mode and carry it with you wherever you go to exchange game data like Mii characters, high scores, and custom characters with other users you pass on the street. You control what data you exchange, and you can exchange data for multiple games at once, making virtual connections with real-world people you encounter in your daily life.
SpotPass
Your Nintendo 3DS XL system can automatically connect to a wireless Internet access point. Once connected, special items will download automatically to your system via the SpotPass feature, even while in sleep mode. Some of these surprise items include exclusive content and promotions from Nintendo Zone, unique 3D videos from the Nintendo Video service, and add-on game content from your favorite Nintendo 3DS games.
Key Features
90 percent larger screens than the Nintendo 3DS
3D upper screen with 3D Depth Slider, lower touch screen
New input and controls: Circle Pad, gyro sensor, motion sensor, and pedometer
Cameras: One inward-facing, dual outward-facing
Wireless switch
Augmented Reality (AR) games and built-in applications
What's in the Box
Nintendo 3DS XL
AC adapter
Nintendo 3DS stylus
Six AR Cards for use with augmented reality games
4 GB SD Card for storing photos, music, and downloadable content.