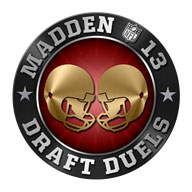 EA Sports is rolling out a new Madden NFL 13 Ultimate Team feature in the form of Draft Duels. So those already addicted to Ultimate Team need to look out, as you may find yourself spending even more time with the game thanks to a whole new set of packs, rewards (and additional bragging rights).
Read on for all the details and for a better explanation of the new feature.
Electronic Arts Inc. today announced Madden Ultimate Team Draft Duels, a brand new way to play Madden NFL 13. With players opening over 16 million player packs and spending nearly 8 million online hours playing games, Madden Ultimate Team – a fan-favorite mode – marries player profile collection with authentic Madden NFL gameplay. Players earn, buy, auction, and trade players to build an ultimate team of NFL legends past and present and make a run for an NFL title. Draft Duels offers a unique flavor, allowing fans to engage in a competitive drafting experience – using special Draft Duels packs – to create the supreme dream team. Big rewards await those who accept the challenge and prove themselves the ultimate draft experts. Over 1.3 million teams have already been created in Madden NFL 13, nearly double the number made in Madden NFL 12 over the same time period, and these numbers will only get bigger as Draft Duels brings a fun new wrinkle into one of the most beloved modes in Madden NFL.

"We're excited to continue delivering fresh, engaging content to Madden NFL 13, most recently with the new Draft Duels competition in Madden Ultimate Team," said Cam Weber, GM of American Football at EA SPORTS. "With the season in full swing we're pleased to provide yet another way for football fans to interact with their favorite sport 24/7."

Draft Duels brings a unique twist to Madden Ultimate Team, as fans will take turns selecting players not only from their own special Draft Duels packs, but their opponent's Draft Duels packs as well. Each round, players choose one NFL star to add to their team, and then swap packs. This back-and-forth challenge continues until all players have been claimed, at which point a head-to-head game begins. Strategy plays an important role, as not only must fans try and craft the best team possible, but they also have to keep their opponent from claiming too many highly-rated players.

Madden Ultimate Team Draft Duels are chock full of rewards, as every match offers the opportunity to claim coins and/or player profile packs based on who drafted the best team and who wins the head-to-head matchup. The bigger the match the better the prizes, with the biggest competitions offering huge coin payouts or exclusive player profile packs. Best of all, no one goes home empty-handed after a Draft Duel, as each fan gets to keep all the players they selected for their team.

Madden Ultimate Team Draft Duels create exciting, unpredictable matches that test not only on-field skills, but strategic prowess as well. This rewarding new mode gives fans an intriguing new way to enjoy Madden NFL 13.
---
Madden NFL 13 on Wiidelivers the ultimate NFL experience. Whether teaming up with friends in Road to the Super Bowl, challenging your rivals in Madden Showdown, or building the ultimate NFL dynasty in Franchise mode, nothing gets you closer to Sunday than Madden NFL 13. Hear all-new commentary from CBS Sports commentators Jim Nantz and Phil Simms, become a Game Changer in 5 vs. 5, and collect all-new awards and special achievements along the way.
Features:
*Ultimate Social Experience - Whether you're teaming up with your friends in the Road to the Super Bowl or crowning a king of the couch in four-playerMadden Showdown, Madden NFL 13 on Wii is the bestway to experience the NFL with your friends!
* Game Changer - An all-new Game Changer System makes 5 vs. 5 mode more engaging and strategic. Earn points for making impact plays, then purchase Game Changers to give your team an advantage. Having a hard time breaking off a long run? Activate Wrapping Sidelines and gain the ability to go out of bounds and come back in from the other side.
* All-New Commentary - Every game has the feel of a nationally televised broadcast with CBS Sports commentators Jim Nantz and Phil Simms calling the action.
* Enhanced Franchise Mode - Build your franchise from the ground up by assembling your roster through a fantasy draft. Hire and fire coordinators and assistants, auction for free agents in a live bidding mini-game, and test your negotiation skillsin an attempt to sign players to build the league's next dynasty.
* All-New Awards - From gameplay achievements to social and franchise milestones,75 awards have been added to the mix making Madden NFL 13 as exciting as ever. Lay the Wood' by delivering five big hits in a game or win the conference championship with your Franchise and become Super Bowl Bound.