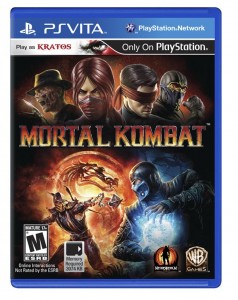 Warner Bros. Interactive Entertainment and NetherRealm Studios recently mentioned that the impressive, portable version of Mortal Kombat would be ready to go in May. Today, the companies followed up with an actual release date, which just so happens to be May 1st.
Pre-order it below!
Warner Bros. Interactive Entertainment and NetherRealm Studios today confirmed that Mortal Kombat for the PlayStation Vita system will be released on May 1, 2012 in North America.

Mortal Kombat for PlayStation Vita system provides an on-the-go fighting game experience with brand new gameplay features and tons of new content developed exclusively for the revolutionary handheld system. Mortal Kombat delivers an all-new Challenge Tower mode with 150 brand new missions, including Touchscreen Fatalities, Xrays and more.
---
Mortal Kombat is unleashed on PS Vita with this feature-rich edition that optimized play for a mobile experience while adding creative way to use Touch Screen controls. Play as iconic characters in classic one-on-one Mortal Kombat fights to the finish. Travel back in time to undo a future rules by emperor Shao Kahn in Story Mode. Choose from 450 quick-hit challenges made for on-the-go play in Tower Mode, or team up in Tag Team Mode. You won't just use the Touch Screen to trigger moves, if one of your blows sens your opponent's blood splattering, you might have to wipe it off the screen with a swipe of your fingers.