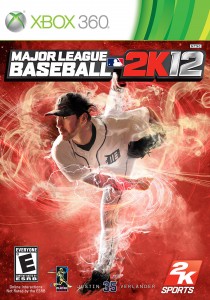 To go along with the demo that is now available on Xbox Live and soon the PSN, 2K Sports has released a new gameplay trailer for MLB 2K12.
The new trailer highlights several features of the game, and shows off Justin Verlander's in-game pitching skills.
Take a look!

The MLB 2K12 Gameplay Trailer is 8 minutes of real-time in-game action, providing a detailed look at how the game plays. Check out Justin Verlander, starting pitcher of the Detroit Tigers and cover athlete, approach each at-bat differently thanks to the new tendencies system, where players can hit or pitch themselves into a good or bad game. The trailer also features MLB 2K12's new throwing system, which gives players more decisions to make in the field. Queuing up throws will result in a smaller sweet spot and higher risk of error, while stopping to set your feet will usually result in a larger sweet spot and more accurate throw.

Additional features you will see in the exciting inning of play are more varied and realistic hits at-bat, from line drives in the gap to slow tappers down the line based on pitch location, speed, swing timing and accuracy. And immediately noticeable is the return of MLB 2K's stellar 3-man booth, including over 80 hours of new commentary from Gary Thorne, Steve Phillips and John Kruk. For the first time, MLB Today games will feature dynamic commentary that updates as the game unfolds.
---
Be Perfect: The longest running Major League Baseball franchise returns to the virtual diamond with MLB 2K12 from 2K Sports. Featuring advanced pitching and hitting controls, detailed player tendencies and scouting reports, and immersive game modes for any level of fan, MLB 2K12 is the only game you'll need this season. Available March 6, 2012 on all major gaming consoles. MLB Today Season Mode - For the first time ever, play along with the real-life MLB season AS IT UNFOLDS. Take charge of your favorite team and see how you stack up against the rest of the league over the course of a six month-long season. Dynamic Tendency System - Just as in real-life, opposing pitchers and hitters will learn your ten-dencies from one at-bat to the next, challenging you to mix up your approach on both sides of the plate as each game unfolds. New Throw Meter - A revamped throwing system presents a classic risk vs. reward situation every time you make a play. Will you queue up throws before fielding the ball to save time, or take a moment to set your feet for better accuracy. Improved My Player Mode - Want to be the next All-Star slugger or ace starter? All-new player types let you decide your path to the Majors. Goals, expectations, ratings and progression are all customized by position and player type. Soundtrack - Tracks handpicked by SPIN magazine, featuring Cool Kids, Skrillex, The Joy Formidable, Group love, My Morning Jacket and more.