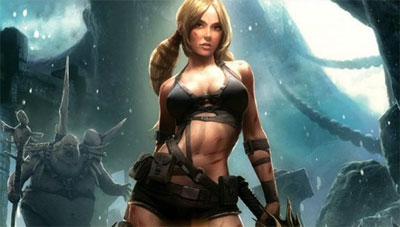 Konami has released a new trailer, and also confirmed the release date and price for Blades of Time, their upcoming, budget-priced, epic action title for the PlayStation 3 and Xbox 360.
Blades of Time is set for a release next week, March 6th, for only $39.99.
Take a look at the trailer directly below.

More about Blades of Time:
Blades of Time is centered around the gorgeous treasure hunter Ayumi, who finds herself under siege in the hostile fantasy realm of Dragonland, where demonic creatures fueled by Chaos magic wreak havoc. The video introduces Blades of Time's lush landscapes and Ayumi's deadly beauty, from her quick-slashing dual-katana attacks, handiness with firearms, her game-changing ability to rewind time, and more.

The new trailer showcases Ayumi in elegant melee and ranged combat, in some instances using Time Rewind to clone herself into a small army to fight her monstrous adversaries.
---
Play as the gorgeous gunsword-wielding treasure hunter Ayumi as she carves a path of destruction through a mysterious and dangerous island. While rich with bounty, the island is also caught in the throes of Chaos magic. Ayumi soon discovers that it is also the home of thousands of long-held secrets, including special powers and abilities that she can gain for herself. Using everything she can, she must find a way to defeat armies of menacing villains and a multitude of treacherous traps in order to break free of the possessed island's grasp. With a host of colorful characters, eye-popping visual appeal, tons of treasure and a huge variety of combat skills to master, Blades of Time will satisfy gamers' hunger for an entertaining yet deep action game that even gamers new to the hack-and-slash genre will enjoy.