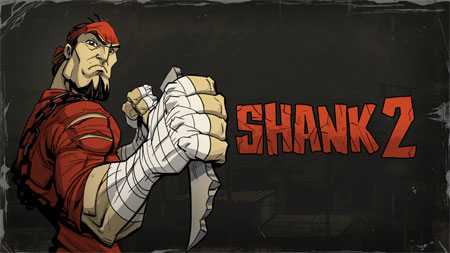 Shank 2, Klei Entertainment and EA Partner's violent, story-driven, 2D action brawling sequel, has an official release date and price as of this morning.
The much enhanced follow-up is scheduled to be released on the PSN and PC on February 7th, 2012 for $9.99, and on XBLA a day later for 800 Microsoft Points. The Euro PSN version will also launch on the 8th for €9.99.
Read on for the announcement from EA.
Award-winning independent game developer Klei Entertainment and EA Partners, a division of Electronic Arts Inc., today announced that the highly anticipated 2D action brawler, Shank 2, will be available on the PlayStation Network and PC in North America on February 7, 2012 for $9.99 USD. The game will be available on the Xbox LIVE Arcade and PlayStation Network Europe on February 8, 2012 for 800 Microsoft Points or €9.99.

Set in a pulp fiction world, Shank 2 puts players back in control of their favorite ex-mobster hitman, Shank. Klei has evolved the combat experience with precise controls, new weapons, smarter enemies, and more advanced combo techniques, all set to the backdrop of beautiful 2D art and animation. Players can put Shank's trusty arsenal of handguns, chainsaws, grenades, plus all-new weapons to use in order to protect those close to him.

Introducing an all-new Survival Mode, gamers can team up with a friend online or locally, working together to take down hordes of goons in an action-packed, arcade-style brawl. Featuring stunning visuals from Klei's veteran cartoon director, Jeff Agala, Shank 2 raises the bar even higher for 2D brawlers with art and animation that won Klei multiple awards and nominations, including IGF's Excellence in Visual Arts nomination, and the Canadian Animator of the Year award for Klei's lead animator, Aaron Bouthillier.

For more information on Shank 2, please visit www.shankgame.com and follow the development team at www.twitter.com/klei and at www.facebook.com/shankgame.
---
Take your Xbox 360® online to:
Rent HD movies and buy TV shows, and with KinectTM, your voice is the remote control.
Download arcade and full Xbox 360 games.
Keep games fresh with new map packs, new songs and workouts.
Product Description
Xbox LIVE® is the online service for your Xbox 360®. Connect for free* and use Microsoft® Points to rent and buy HD movies or download full Xbox 360 games. Keep games fresh with new map packs, new songs and workouts.
Xbox LIVE Code Redemption
NOT AN XBOX LIVE MEMBER YET?
 Follow these steps first before redeeming code:
Connect your Xbox 360 to a broadband Internet connection.
Press the silver/green Xbox Guide Button on the controller.
Select Create Profile & follow instructions to create profile name & avatar.
Select Join Xbox Live & follow instructions to setup your Xbox Live account.
TO REDEEM GOLD MEMBERSHIP CODE:
Sign in to your Xbox LIVE account.
Press the silver/green Xbox Guide Button on the controller
Navigate to Marketplace tab.
Select Redeem Code & enter code.
Codes can also be redeemed at xbox.com/live.
Broadband Internet, Kinect Sensor and console, games, add-ons and media content all sold separately. Not all Xbox LIVE functionality is Kinect enabled. See xbox.com/live.