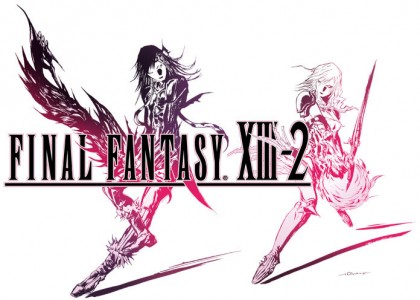 Final Fantasy XIII-2 hit retail today (our review is almost done), and to celebrate, Square Enix has revealed more about the first pieces of DLC scheduled to be released for the game.
The upcoming content includes an assortment of Coliseum Battles which sets up your party against characters and enemies from previous Final Fantasy titles. Lightning Coliseum Battle, which is due up next week, features a battle against Lightning and Master Sergeant Amodar for example.
There will be additional content that will expand on the story a bit as well.
Take a look at a pair of screens from Lightning Coliseum Battle.

This is your last chance to get the game for only $39.99 at Amazon, after $20 credit!
About Final Fantasy XIII-2 launch and DLC:
Square Enix, Inc., the publisher of SQUARE ENIX interactive entertainment products in the Americas today announced FINAL FANTASY XIII-2 for the Xbox 360 video game and entertainment system from Microsoft and PlayStation®3 computer entertainment system is now available at retailers.

FINAL FANTASY XIII-2 has already received critical acclaim from media. The game surpasses the quality of its predecessor in every way, featuring new gameplay systems, cutting-edge visuals and audio. In this game, players have the freedom to choose from a range of possibilities and paths; their choices affect not only the immediate environment, but even shape time and space.

SQUARE ENIX also announced that extensive downloadable content is planned for FINAL FANTASY XIII-2. The planned content includes Coliseum Battles pitting the player against adversaries from previous FINAL FANTASY titles that, when defeated, can be recruited into the player's party. The Coliseum battle "Lightning and Master Sergeant Amodar" will be distributed on February 7. In addition, there will be episodes which enhance the experience and complement the narrative of FINAL FANTASY XIII-2 with storyline branches for key characters in the story.
---
Cocoon - a utopia in the sky. Its inhabitants believed their world a paradise. Under the Sanctum's rule, Cocoon had long known peace and prosperity. Mankind was blessed by its protectors, the benevolent fal'Cie, and believed that tranquil days would continue forever. Their tranquillity was shattered with the discovery of one hostile fal'Cie. The moment that fal'Cie from Pulse - the feared and detested lowerworld - awoke from its slumber, peace on Cocoon came to an end. Fal'Cie curse humans, turning them into magic-wielding servants. They become l'Cie - chosen of the fal'Cie. Those branded with the mark of a l'Cie carry the burden of either fulfilling their Focus or facing a fate harsher than death itself. A prayer for redemption. A wish to protect the world. A promise to challenge destiny. After thirteen days of fates intertwined, the battle begins. Set several years after Lightning and the others saved Cocoon, some survivors have decided to start over by rebuilding on Gran Pulse. Lightning, however, is nowhere to be found and thought dead by many, but Serah believes otherwise. When her town is suddenly overrun by monsters, a mysterious man named Noel appears to save her.